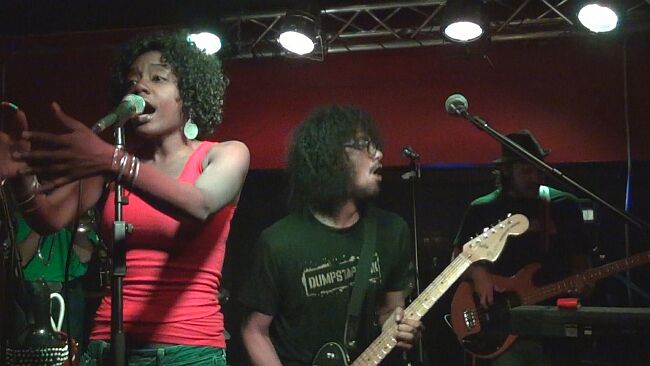 Orgone lit the stage on fire Wednesday, May 30th at the Bishop Bar in Bloomington, IN. Having made a stop in the city during their fall 2011 tour, the crowd was filled with many dedicated Orgone fans as well as newly converted funk fanatics. A full set of old hits and new jams left the crowd in a sweaty, melted, synergistic state of funk.
With a new album coming out in a few months, the group's energy and groove are as tight as ever. This hard touring band will be covering the country this summer with a jam-packed set of dates. Check their schedule and hit up a show for a real taste of Cali fever.
Check out the videos below, and the full SBD audio download here.
Orgone
May 30, 2012 Bloomington, IN @ The Bishop Bar
Rock Me Again & Again & Again (Lyn Collins cover), Strike (Union cover), Sabi:

Orgone
May 30, 2012 Bloomington, IN @ The Bishop Bar
Cynthy-Ruth (Black Merda cover), Lovemaker:

Check out past Funk It features on Orgone: here and here.
Also, if you're wondering, Fanny Franklin, Orgone's previous singer, has released an album of her own and I highly recommend it: http://soundcloud.com/fannyfranklin.
And finally, a bonus video:
Orgone with guest artist at large Jonathan Lloyd (trombone)
November 11, 2011 Bear Creek Music & Arts Festival
Cali Fever, Break In The Road (Betty Harris cover), Rock Me Again & Again & Again (Lyn Collins cover):

And, another bonus video:
Orgone
June 23, 2012 Cleveland, OH @ The Grop Shop
It's Serious ( Cameo cover) (inc. tease of The Clash's The Magnificent Seven):