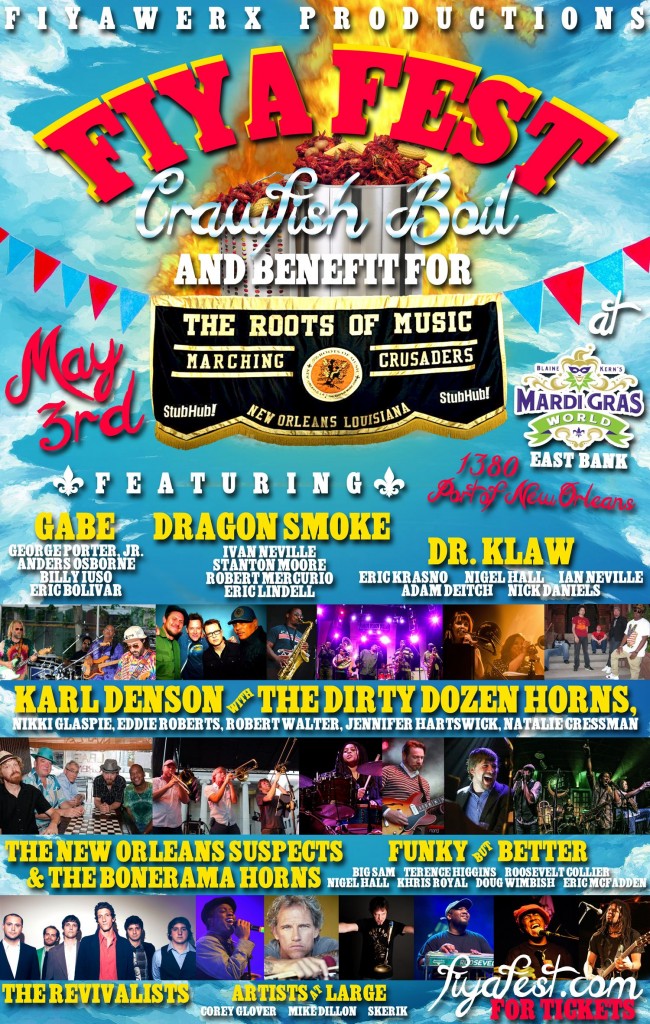 Fiyawerx Productions is an up and coming live music event promotion powerhouse and Fiya Fest is their flagship event to raise funds and awareness for The Roots of Music. On May 3, 2013, Fiyawerx went big with the first annual Fiya Fest and you can catch a glimpse below.
Funk It Blog's Fiya Fest 2013 Highlight Video:

Dragon Smoke (Ivan Neville, Eric Lindell, Stanton Moore, Robert Mercurio)
Country Livin', Landslide [Fleetwood Mac cover], Sunday Morning, Padlock (with Nick Daniels), Karate (with The Roots of Music)

Karl Denson & The Dirty Dozen Brass Band Horns with Nikki Glaspie, Eddie Roberts, Robert Walter, Jennifer Hartswick & Natalie Cressman
It Ain't My Fault [Smokey Johnson cover], Who Took The Happiness Out? [Dirty Dozen Brass Band cover]

The New Orleans Suspects & The Bonerama Horns
Mardi Gras Moms Ball (with Big Sam), Pocketful Of Grits, All The Money

Funky But Better (Big Sam, Terence Higgins, Doug Wimbish, Eric McFadden, Roosevelt Collier & Khris Royal)
Funky But Better Jam, ??? (with Mike Dillon) (inc. Treme & Shake That Thing Girl), ??? (with Mike Dillon)

G.A.B.E. (George Porter Jr, Anders Osborne, Billy Iuso, Eric Bolivar)
Will It Go Around in Circles (with Skerik, Corey Glover & Peter Levin), He Bite Me (The Dragon) (with Corey Glover & Skerik), Mr. Charlie

Also check out the youtube page of Cement Level Studios for more Fiya Fest 2013 videos.
You can also find my videos from the 2012 and 2011 Fiyawerx Family Funktion Crawfish Boils here and here.