Prince & The Revolution – Erotic City – June 7, 1984 – The 1984 Birthday Show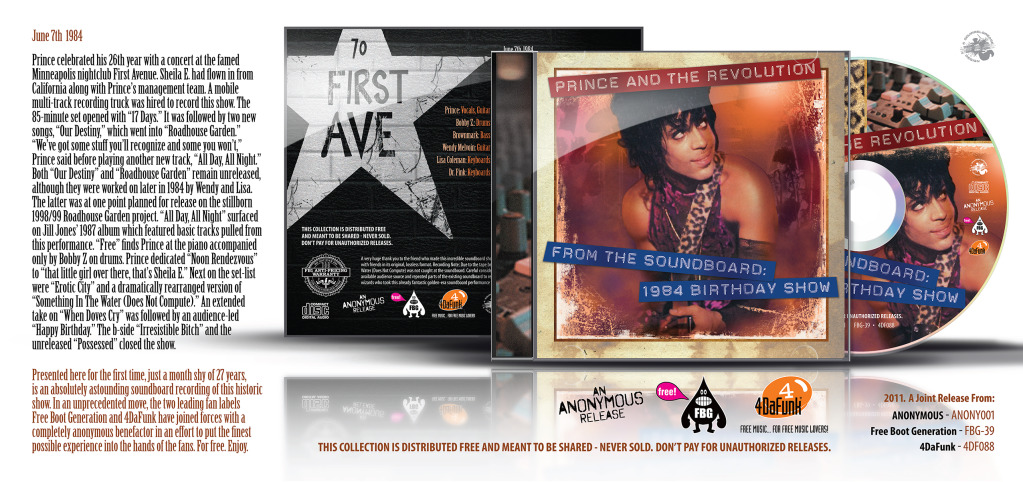 An audience recording of this show has been around the bootleg circuit for years ("Erotic City", "Noon Rendezvous", "26"), but I could never really listen to the whole thing because it sounded so bad. Now the pristine multi-track soundboard recording has leaked out into the general public and you can download it here:
http://www.megaupload.com/?d=6LI5DCCH (the password is reggolboge)
or here: http://www.thetradersden.org/forums/showthread.php?t=91209.
The artwork is here: http://www.megaupload.com/?d=GLAL48KV (the password is dontbuypressedrehash).
Here is the accompanying "press release" (if a bootleg can ever really have a press release):
Presented here for the first time, just a month shy of 27 years, is an absolutely astounding soundboard recording of this historic show. In an unprecedented move, the two leading fan labels Free Boot Generation and 4DaFunk have joined forces with a completely anonymous benefactor in an effort to put the finest possible experience into the hands of the fans. For free. Enjoy.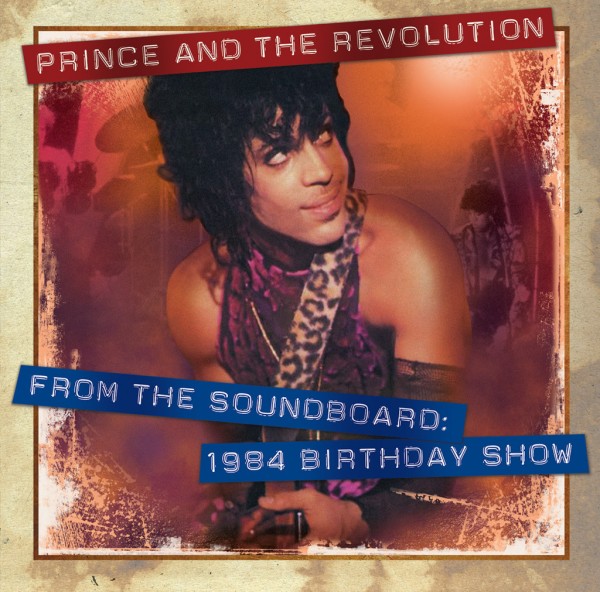 Prince And The Revolution
"From The Soundboard: 1984 Birthday Show"
June 7th, 1984
First Avenue
Minneapolis, MN
Source: Soundboard
Lineage: SBD > Tape > WAV > Soundforge > FLAC > TLH SBEs fixed > You
Label: Anonymous / FBG / 4DF
Cat.-No.: Anony001 / FBG39 / 4DF088
Released: May 2011
TRT: 79:52
1. Shortberry Strawcake (PA) / Drums check (0'56)
2. 17 Days (5'24)
3. Our Destiny (3'23)
4. Roadhouse Garden (4'45)
5. Interlude (1'20)
6. All Day, All Night (5'42)
7. Free (4'40)
8. Noon Rendezvous (9'02)
9. Erotic City (8'31)
10. Something In The Water (Does Not Compute) (10'10)
11. When Doves Cry (11'37)
12. Happy Birthday Interlude (2'27)
13. Irresistible Bitch (6'07)
14. Possessed (5'48)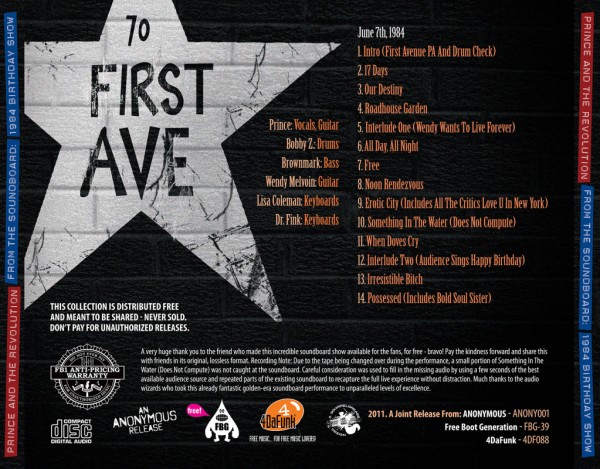 Prince celebrated his 26th year with a concert at the famed Minneapolis nightclub First Avenue. Sheila E. had flown in from California along with Prince's management team. A mobile multi-track recording truck was hired to record this show. The 85-minute set opened with "17 Days". It was followed by two new songs, "Our Destiny," which went into "Roadhouse Garden." "We've got some stuff you'll recognize and some you won't," Prince said before playing another new track, "All Day, All Night." Both "Our Destiny" and "Roadhouse Garden" remain unreleased, although they were worked on later in 1984 by Wendy and Lisa. The Latter was at one point planned for release on the stillborn 1998/99 Roadhouse Garden project. "All Day, All Night" surfaced on Jill Jones' 1987 album, which featured basic tracks pulled from this performance."Free" finds Prince at the piano accompanied only by Bobby Z. on drums. Prince dedicated "Noon Rendezvous" to "that little girl over there, that's Sheila E." Next on the set-list were "Erotic City" and a dramatically rearranged version of "Something In The Water (Does Not Compute)." An extended take on "When Doves Cry" was followed by an audience-led rendition of "Happy Birthday". The b-side "Irresistible Bitch" and the unreleased "Possessed" close the show.