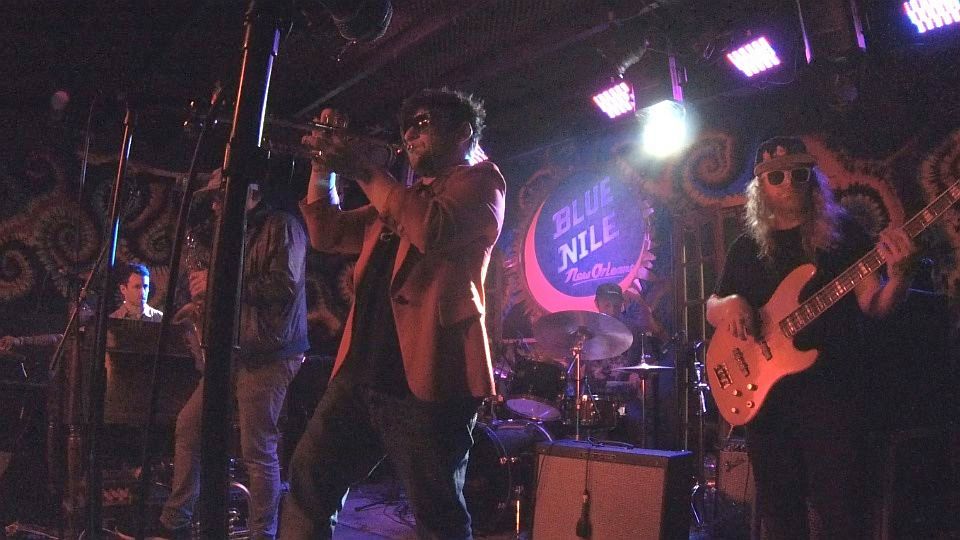 Bitches Bloom – May 2nd, 2017 – New Orleans, LA @ Blue Nile
Part 1 of 4: Sivad > Benny Runs The Voodoo Down >

Bee Getz as quoted in his NOLA Jazz Fest After-Dark 2017 overview review at Live For Live Music:
Bitches Bloom followed DRKWAV's phantasmagorical performance Tuesday night at the Blue Nile, and the Royal Fam regiment immediately distinguished themselves from the dozens of other tributes taking place around town. Helmed by Lettuce trumpet player Eric "Benny" Bloom, Bitches Bloom took a long, hard look into the Miles Davis catalog of the late 60's and dawn of the 70's. Bloom employed a sort of method acting, mean-mugging and glaring at his assembled players until they achieved tone and textures to his liking, just as Davis would do to start performances in those times. Bloom was joined by Lettuce co-conspirators Adam Deitch (drums), Nigel Hall (keys), Ryan Zoidis (sax), and Jesus Coomes, who handled the Michael Henderson basslines with aplomb.
Bitches Bloom – May 2nd, 2017 – New Orleans, LA @ Blue Nile
Part 2 of 4: Shhh/Peaceful > It's About That Time >

Benny Bloom was master of ceremonies and star of this serenade. The steamy, foreboding performance saw sit-ins from Wil Blades (organ) and trumpet mavens Maurice "Mo Betta" Brown and Aaron Janik. Benny meticulously searched deep into the annals of this era, and the setlist included opener "Sivad," a harrowing revamp entitled "Benny Runs the Voodoo Down," "Right Off," "It's About that Time," "Jean Pierre," this writer's favorite jam "Black Satin" (off of 1972's brilliant On the Corner). Be advised that the separations hardly mattered, as they were just shifts in groove that altered the time-space continuum. Leaving the Blue Nile sometime near 4 a.m., we were left shaking our heads at how Benny and company had so effectively mined the Miles zeitgeist whilst delivering this shell-shocking, inventive performance. Bitches Bloom found itself immediately on the short list of the finest shows at Jazz Fest 2017, a testament to the modus operandi of this murderers' row.
Bitches Bloom – May 2nd, 2017 – New Orleans, LA @ Blue Nile
Part 3 of 4: Right Off (with Aaron Janik & Maurice Brown) > Improv?

Bitches Bloom – May 2nd, 2017 – New Orleans, LA @ Blue Nile
Part 4 of 4: Black Satin > Jean Pierre

Bitches Bloom
May 2nd, 2017
New Orleans, LA @ Blue Nile
Sony ECM-MS908C stereo mic > Canon XA-20 video cam as LPCM 16/48 audio > 16/44 WAV > FLAC
AUDIO DOWNLOAD: FLAC TORRENT or MP3 ZIP 1 or MP3 ZIP 2 or LIVE MUSIC ARCHIVE
01. Sivad >
02. Benny Runs The Voodoo Down >
03. Shhh/Peaceful > It's About That Time >
04. Right Off (with Aaron Janik & Maurice Brown) >
05. Improv?
06. Black Satin >
07. Jean Pierre
Eric Benny Bloom as Miles Davis – trumpet, keyboards, percussion
Ryan Zoidis – saxophone
Adam Deitch – drums
Jesus Coomes – bass
Wil Blades – keyboards
Nigel Hall – keyboards
Guests:
Maurice Brown – trumpet
Aaron Janik – trumpet