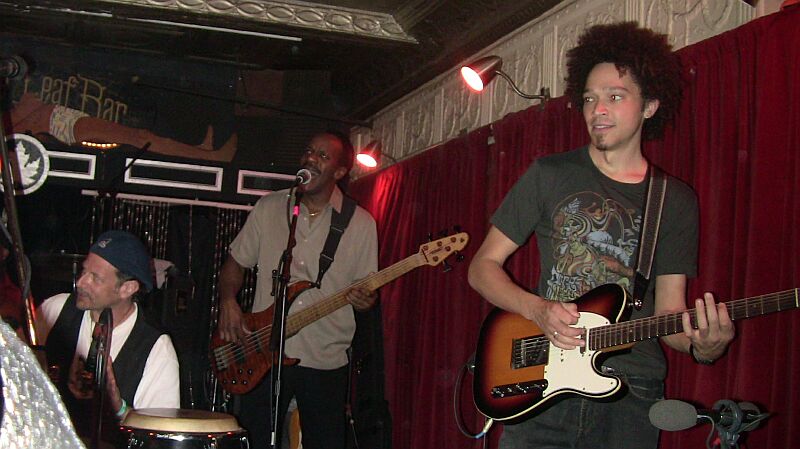 Nearly a year ago, during the 2nd weekend of the 2011 New Orleans Jazz & Heritage Festival, the 4th Annual SF Management Crawfish Boil kicked off at the Maple Leaf Bar. The music started at 7pm, so you'd have to forego your after-jazz fest nap if you wanted to see this show. All proceeds from the event were donated to the New Orleans Musicians Assistance Foundation.
Shari Frank, the event coordinator, always makes it a point to put together a unique combination of musicians. For 2011, it was Ivan Neville, Ian Neville, and Tony Hall (from Dumpstaphunk) with David Russell Batiste (from The Funky Meters). Mark Rechler's Circus Mind opened the show with choice covers such as Bill Wither's Use Me and Joe Cocker's version of Traffic's Feelin Alright. Midway, Gaynielle Neville, Cyril Neville's lovely wife, and her entourage stormed the stage for a few originals and a romp through the Sly & The Family Stone classic, Everyday People.
Video 1 of 4: Ain't No Use (To Cut You Loose) [w/ Mark Rechler & Steve Finkelstein],
Doodle Oop (The World Is A Little Bit Under The Weather) [w/ Steve Finkelstein]

Slowly, the musicians filtered in and out, before we were left with 3/4th of Dumpstaphunk (Ivan Neville, Ian Neville & Tony Hall) + 1/4 of The Funky Meters (Russell Batiste). This is when things got interesting with some very deep cuts from The Meters' time-honored back catalog. What'cha Say. Gettin' Funkier All The Time. These are Meters tunes that rarely if ever have been played live by either the original lineup or the Funky Meters lineup. Ivan and his friends put forth faithful interpretations that also expanded into heavy funk improvisations. Mojo Hannah, a Tami Lynn tune that was a staple of The Neville Brothers' repertoire was particularly soulful.
Just when I thought it couldn't get much funkier, Cyril Neville busted onto the stage with an exhilarating performance of The Meters' Chug A Lug, which then turned into a percussion jam between Cyril and Russell Batiste. Then Ivan teased in the chords of Zigaboo Modeliste's crescent city anthem, Welcome To New Orleans. That's when my crew and I knew that we'd arrived.
Video 2 of 4: Chug A Lug [w/ Cyril Neville] > Welcome To New Orleans [w/ Cyril Neville]

Video 3 of 4:Gettin' Funkier All The Time, Just Kissed My Baby

Video 4 of 4:What'Cha Say, Mojo Hannah,
The Same Thing (Makes You Laugh, Makes You Cry) [w/ Steve Finkelstein]

The full audio recording of this performance is available to stream or download over at Live Music Archive.
And if you're interested in the 2012 SF Management Crawfish Boil, to take place on Saturday, May 5th, go to the SF Management website.