Phish – Ghost – July 23, 1997 Atlanta, GA @ Lakewood Amp.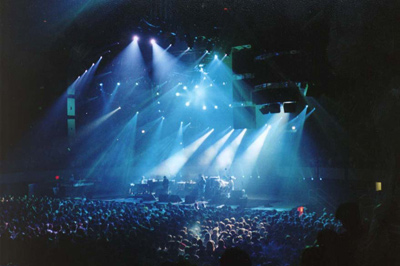 I'll admit that I've never been a big Phish fan. A few of their tunes interest me (mainly the instrumental passages, crazy prog epics like YEM, and funk work-outs like Meat) and many do not. But when a friend of mine forwarded me this 26 minute version of Ghost from a 1997 show, it gave me a newfound appreciation of the band.
I always heard that they were capable of "transcendant" musical moments, etc. but I rarely had the patience to get past the vocal heavy song beginnings and the many goof-ball choruses. One listen to this track caused me to revisit their 1998 album, The Story of the Ghost. Since then, I've learned that 1997 was the year of their "funk" sound period. And I do believe I may search out more 1997 live recordings in the future.