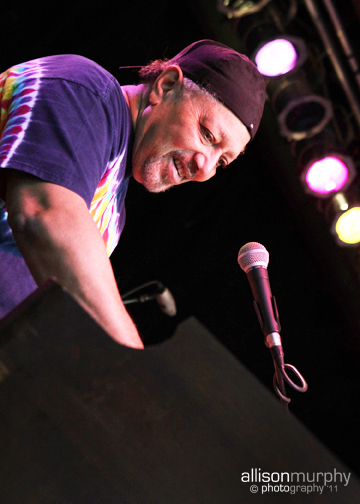 I don't have much time to write about this performance, but I'll just put it out there as proof that The Funky Meters are still a band in full swing and that Art "Poppa Funk" Neville can still play like the 75 year old legend that he is.
This was one of the most enjoyable sets of the weekend for me. Maybe it was the flask of rum in my pocket, or maybe it was just the joy exuding from both the players and the crowd. I suspect it was a combination of both along with the magical atmosphere of the Spirit of the Suwannee Music Park.
There are some nice sit-ins on this set by Pee Wee Ellis, Billy Iuso, Nikki Glaspie, Ivan Neville and Ian Neville.
The Funky Meters
Saturday, November 12, 2011
Live Oak, FL @ Bear Creek Music Festival
Part 1 of 2: Jam > Funkify Your Life > Look-Ka Py Py > Soul Island > Hang Em High

The Funky Meters
Saturday, November 12, 2011
Live Oak, FL @ Bear Creek Music Festival
Part 2 of 2: (Doodle Oop) The World Is A Little Bit Under The Weather (with Pee Wee Ellis) > Keep On Marching (with Pee Wee Ellis) > Art chastises George > Love Slip Up On Ya (with Billy Iuso) > Fire On The Bayou (with Billy Iuso & Nikki Glaspie)

The Funky Meters:
Art "Poppa Funk" Neville: keys, vocals
George Porter Jr: keys, vocals
Brian Stoltz: keys, vocals
Russell Batiste Jr: drums, vocals
AUDIO: Schoeps mk22/cmc6 } Sound Devices 788 by Steve Bazley
VIDEO 1: Canon Vixia HF21 by RLBayers
VIDEO 2: Zoom Q3 by Adam Firtel of CHeeSeHeaDPRoDuCTioNS
And here's the end of the show, shot by just CHeeSeHeaDPRoDuCTioNS:
Cissy Strut > People Say (w/ Ivan Neville & Ian Neville) > Welcome To New Orleans (w/ Ivan Neville & Ian Neville) > Ain't No Use (w/ Ivan Neville & Ian Neville)