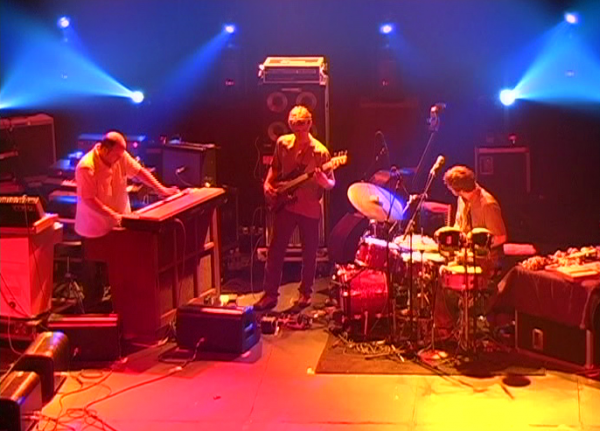 Still on the Medeski Martin & Wood tip. If you've ever seen this Russian polka trio perform live then you've probably already been hooked, not only by their musical virtuosity but by their incessant grooves.






Today I present a full 2 hour video of MMW throwing it down at a 2004 late night show during New Orleans Jazz Fest. At the time, the band was fresh off of a west coast run of nine shows at small venues in which every show was complete improvisation. [I highly highly recommend dug's five disc compilation: April Grooves 2004.]
After a few nights off MMW hit NOLA like a storm, busting out mainly new tunes from their End Of The World Party (Just In Case) album that they would release later that year. The first half of the show features the Sex Mob horns, Steven Bernstein on trumpet & Briggan Kraus on saxophone, and there is also a spacey improv section with Grant Calvin Weston on percussion and Briggan Kraus blowing some weird sounds on the sax. The encore also features the Sex Mob horns on one of John Medeski's classic tunes, Wiggly's Way.
The full video is on youtube in 2 parts and the DVD version is available to download here.
Part 1/2:
Anonymous Skulls > Improv > Mami Gato > Down On Me
Sasa > Improv > Creole Love Call (w/ Snake Anthony bassline)

Part 2/2:
Drum Solo > Curtis > Bass Solo > Queen Bee
New Planet > Improv (w/ G. Calvin Weston & Briggan Kraus)
End Of The World Party
Encore: Whiney Bitches > Wiggly's Way

Interesting tidbit: at the same time this show was occurring, David Bowie (with The Polyphonic Spree as his opening act) was playing literally across Canal Street at the Saenger Theater. It was a tough choice, but with two of my absolute favorite bands playing together, I just couldn't miss this MMW / Ween co-headliner.