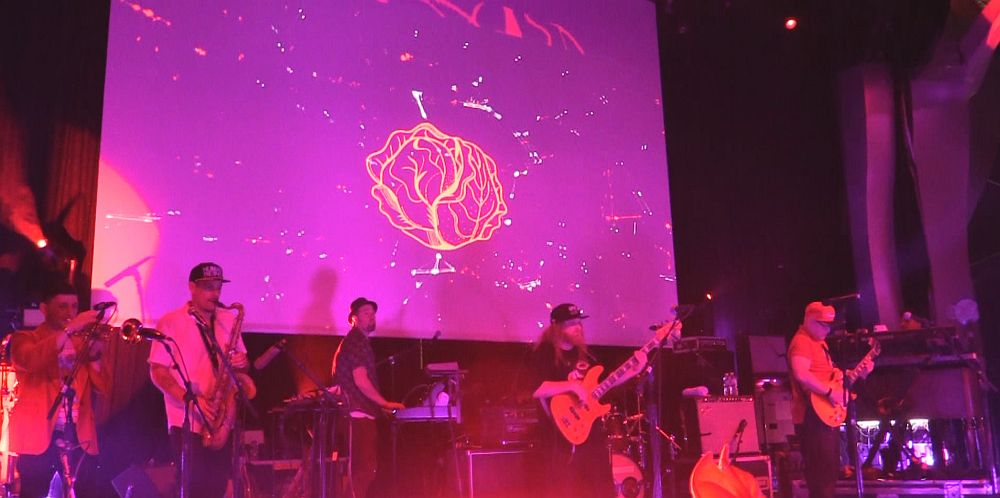 Lettuce 1/8/16 Jam Cruise – Part 1 of 2:
"Neal Untitled", Let Bobby, Ghost of Jupiter, Squadlive > Lettsanity > Body Heat [James Brown cover] (with Nigel Hall) > Lettsanity

Bee Getz as quoted in his Jam Cruise 14 overview review at Live For Live Music:
I am not sure I have vernacular to adequately describe what went down in that room. Lettuce is already leading the charge toward the new frontier; evolving, growing and exploding into a genre all their own. In the Pantheon Theater, twas a mixture of the hour, the elements, and environs. Riding the high of their film screening, this was a focused band on a mission. The willingness to dive headfirst into pure, free-form Type II jamming, as an eight or nine piece ensemble, was astonishing. That they are delivering these excursions to the netherworlds is enough; yet the physicality of their sound is a historical discovery, a breakthrough on the search for new land. Infinitely more bass gymnastics from the crooked cross became an assiduous assault. This was sonic ammunition for a frenzied dance-rage deep into the ocean waters, never mind thousands of leagues beneath.
From bombastic trap-thunderclaps, with humongous bottom end from the man they call Jesus, the question wasn't bass, it was how low could they go. The sounds emanating from Neal Evans were grandiose; downright imperial in their psychedelia. The same can be said for the synth-rig Ryan Zoidis pumped through his alto, drenched in the dankest in dub arkology. Furious percussion grooves from Deitch, augmented by Tyler Coomes, created opulent hip-hop temples of boom, This new soundwave enabled their wide-open improvisations to be created with colors native to Tipper, or Thriftworks, yet the textures are in the late 70's Bootsy Collins zip code, Benny Bloom was the G-code personified, blowing his bitch's brew atop the wave. There is simply no other music being made like this. Period. On this night, Lettuce would drop no less than THREE of these magnum opuses, snowflake adventures bursting at the themes. The first two were Neal Evans' creations; dude is a mad freaking scientist, imagining post-apocalyptic galaxies and manifesting them in song. This was the spirit of 'Choose Your Own Adventure,' set to psychedelic crunk. Throw in a Nigel Hall and Shmeeans-led D'angelo tease ("Chicken Grease") in the middle of "Do It Like You Do" and Lettuce officially shut down Jam Cruise. We have glimpsed the future. Get some shades, yo.
Lettuce 1/8/16 Jam Cruise – Part 2 of 2:
Blast Off > Trillogy > Making My Way Back Home (inc. Bustin Loose [Chuck Brown cover]) (with Nigel Hall) > Do It Like You Do (inc. Chicken Grease [D'Angelo cover]) (with Nigel Hall & ???)

Lettuce question & answer session 1/8/16 Jam Cruise:
Earlier in the afternoon, after they premiered the "Let Us Play" documentary there was a Q&A session with everyone from Lettuce plus Kunj Shah of Live 4 Live Music (producer of the film) and Jay Sansone of Human Being (director of the film)

======================================================================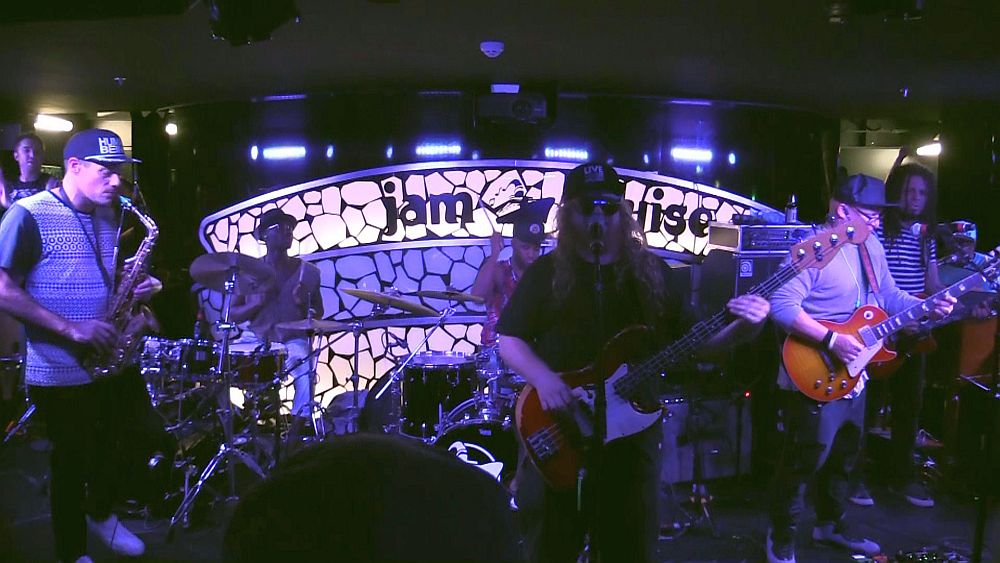 The night before, Adam "Shmeeans" Smirnoff held down the Jam Room for no less than 3 hours. It started around 2:30am with Alvin Ford Jr. holding down the main drum chair for approximately 2.5 hours with only a short break for Trombone Shorty's rhythm section to jump in.
Adam "Shmeeans" Smirnoff's Jam Room 1/7/16 Jam Cruise – Part 1 of 4:
A loose Jam with Deitch on the 2nd drum kit and Ivan Neville, Borahm Lee & Nigel Hall flourishing on the keyboards.

Adam "Shmeeans" Smirnoff's Jam Room 1/7/16 Jam Cruise – Part 2 of 4:
An hour later I stepped back in to find Trombone Shorty's rhythm section (Mike Ballard & Joey Peebles) laying it down and pumping and slinking through several improvisational grooves along with Karl Denson's Tiny Universe guitarist DJ Williams and Jans Ingber (formerly of the The Motet).

Meanwhile, stuff like this happened:

Adam "Shmeeans" Smirnoff's Jam Room 1/7/16 Jam Cruise – Part 3 of 4:
Then Nigel Hall and Jesus Coomes joined Ryan Zoidis, Eric McFadden and a dual drum assault of Isaac Teel from Tauk and Alvin Ford Jr. for a run through Nigel's own tune "Don't Change For Me" with a slight bridge to pay tribute to the godfathers The Meters on "A Message From The Meters". Shit was hot.

Adam "Shmeeans" Smirnoff's Jam Room 1/7/16 Jam Cruise – Part 4 of 4:
The jams just continued and continued with Charly Lowry (recent vocalist for The New Mastersounds) and many other players. Jesus gives up the bass to Oteil Burbridge and Deitch tries to battle it out with Alvin Ford Jr., but Ford the cyborg holds it down like a machine and prevails with Deitch throwing in the towel around 5am. Shortly after this video ended, the very talented unknown female guitarist Emily Musolino seen here took over on bass duties and kept it rocking for 30+ more minutes. Does anyone know who she is?

Bee Getz as quoted in his Jam Cruise 14 overview review at Live For Live Music:
The concept of the Jam Room is in its essence what makes this boat sail. Lettuce guitarist Adam "Shmeeans" Smirnoff had hosting duties on night two, and it was a gluttonous, rowdy affair; the funk and grooves were massive, and the sound was gargantuan. Ably assisted by members of Lettuce, Dumpstaphunk, Jans Ingber, Todd Stoops, Eric McFadden, Tyler and Jesus Coomes, Oteil Burbridge, among others, the first two hours of this Jam Room was maybe the best of the week. Alvin Ford Jr, drummer of Dumpstaphunk, showed everybody why he is a fucking cyborg. Word on the street is that Ford was created in a lab, fed only the highest grade supplements, and trained twenty hours a day for twenty years. He is now a veritable Terminator. built to destroy any drum kit or drummer, at any given moment in time. The 'Boy Wonder' Adam Deitch, and the new kid on the block Isaac Teel (Tauk) both sat down to double drum with Ford, and for a while they each pushed along and rode the train as best they could. In the end, Ford took them both down, as Deitch playfully gave up and threw his sticks in the air, signifying "defeat", while Teel took it in stride, as he definitely had the most God-given steez of any player on the Divina. Daps go to Shmeeans for leading this ensemble through some of the heaviest funk on Jam Cruise. Key tunes- an uplifting, bouncing "Don't Change for Me" (Nigel Hall), a raging "Hang Up Your Hang Ups" (Herbie Hancock), and "Thank You for Lettin Me Be Mice Elf, Again" (Sly Stone).
======================================================================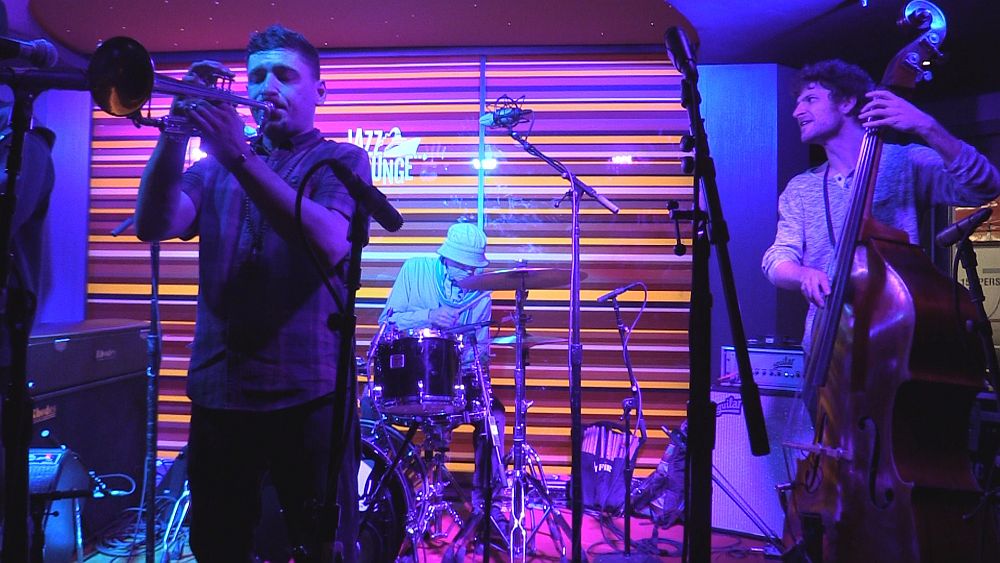 Eric "Benny" Bloom's Jazz Lounge 1/7/16 Jam Cruise – Part 1 of 4:
The end of Mercy, Mercy, Mercy [Joe Zawinul cover] with Johnny Vidacovich, David Torkanowsky (both of Astral Project), Michael League (of Snarky Puppy), Will Bernard & Congo Sanchez

Eric "Benny" Bloom's Jazz Lounge 1/7/16 Jam Cruise – Part 2 of 4:
Night Train [Jimmy Forrest cover] with Stanton Moore swapping out with Johnny Vidacovich and Mike Maher (of Snarky Puppy) joining on trumpet

Eric "Benny" Bloom's Jazz Lounge 1/7/16 Jam Cruise – Part 3 of 4:
Passion Dance [McCoy Tyner cover] with Stanton Moore, David Torkanowky, James Singleton, Will Bernard, Skerik & Weedie Braimah

Eric "Benny" Bloom's Jazz Lounge 1/7/16 Jam Cruise – Part 4 of 4:
How Blue Can You Get [Johnny Moore's Three Blazers cover] with Alvin Ford Jr., David Torkanowsky, James Singleton, Eric McFadden & Skerik