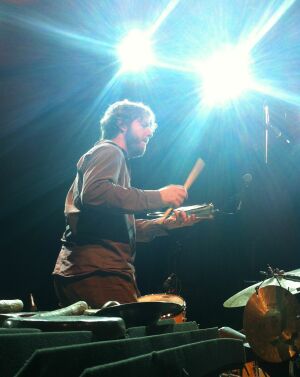 I'm going to start my Bear Creek Music Festival coverage with some pre-fest festivities from Thursday, November 10, in Atlanta, GA. I started the evening at the Variety Playhouse with my 47th Medeski Martin & Wood show. The opening act was a blues band called Scrapomatic featuring Kofi Burbridge on vocals as a special guest for the entire show. Kofi has a silky smooth voice and the tunes were playful blues numbers. However, after the first 30 minutes, people got antsy. The vibe was a little too relaxed for the restless crowd that was starting to pour in.
MMW started their all request set with two tunes from their classic 1995 album, Friday Afternoon In The Universe: The Lover > We're So Happy. Between these two songs it sounded like Billy was teasing Moti Mo (one of my friend Greg and I's requests for the evening). My video of We're So Happy starts out a little rough with some heads in front of me, but about 3 minutes in the people in front of me let me step up to the front and film the song with a clear view. You can view the video below.
After a brief acoustic detour into Duke Ellington territory on Acht O'Clock Rock (with an interesting John Medeski mellotron section), the band slid into a third song from the Friday Afternoon album, Last Chance To Dance Trance (Perhaps). This was a very long and expansive version, clocking in at around 18 minutes long including an acoustic piano section and an illyB drum solo. They closed the set with a tambourine and melodica infused version of the old New Orleans mardi gras song, Tootie Ma Is A Big Fine Thing.
Medeski Martin & Wood – We're So Happy, Feelin' Good (with Col. Bruce Hampton) 11/10/11 Atlanta, GA @ Variety Playhouse:

The second set began with a sit in by Col. Bruce Hampton on vocals, which you can watch above. Next was 25 minutes of sublime, groove-oriented, improvisation. You couldn't ask for more, but we got more. The improv segued into a drum and percussion solo, which segued into another rarity: Sequel (also from the Friday Afternoon album).
John Medeski then topped off the set with a soft and sweet rendition of Everyday People by Sly & The Family. For the encore, Billy Martin announced that they would be playing a song from their "20" release. When crowd members asked the name of the song, Billy told them they would have to buy it to find out, since there were some "profundities" in the title. The name of the tune: Fuck You Guys.
I never got my Moti Mo or Chinoiserie requests, but I did get plenty of other Friday Afternoon songs, as well as a Duke Ellington fix, so no complaints here (well, except my complaint that Kofi never joined the band for a flute down…). However, I can confidently say that this blew the Chicago show out of the water and has to be in my top 5 MMW shows.
===================================================================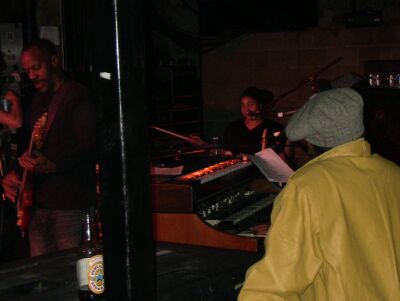 As soon as MMW ended, we headed straight to The Masquerade to catch Ivan Neville's Dumpstaphunk. We arrived just as the opening act, Orgone, began breaking down. I was glad we hadn't missed Dumpstaphunk, and I knew I would see Orgone the next day at Bear Creek. (Shout out to Sergio for putting me on the guest list!)
Attendance was sparse as Dumpstaphunk hit the stage around 1am, and the band used this show as a warm up for their two upcoming Bear Creek sets. This was my first time seeing them with new drummer Nikki Glaspie and I came away knowing that she is more than capable of filling Raymond Weber's shoes, while also bringing some added energy to the mix.
They played several new songs: Fame (a David Bowie cover), If I'm In Luck I Just Might Get Picked Up (a Betty Davis cover in which Nikki sings), Blueswave (which has been played only a few times since August of 2010), and Water (a Graham Central Station cover) (presumably this was the first time it has been played live, since they had lyrics sheets out and they had been in the studio days before this show). (FYI, Water was also the set closer Sunday night at Bear Creek with The Shady Horns.)
Near the end of the show, Nigel Hall, Ron Johnson, & Terrence Higgins showed up after their gig with the Warren Haynes Band at the Tabernacle finished. For the set closer, Meanwhile, Nigel Hall joined on keys, freeing Ivan Neville to jump on guitar. And for the encore we got a DumpstaJam prequel: Tony Hall & Nick Daniels sat out. Nigel Hall was on keys and vocals, Ivan and Ian stayed on guitar, Terrence Higgins got behind the drum kit, Ron Johnson took Tony's bass, and Nikki got on Nick's bass. They started with a slow and brooding version of Sly & The Family Stone's Babies Making Babies then segued into Nigel's Nick Daniels impersonation on Turn This Thing Around, then into a slow and playful version of Put It In The Dumpsta. Clearly these guys don't take themselves too seriously and were just playing around for their own amusement, as the encore is kind of half-assed and tongue in cheek. It's still cool to watch though….
DumpstaJam Prequel – Encore (1 of 2) with Nigel Hall, Ron Johnson & Terrence Higgins: Babies Making Babies (Sly Stone cover) > Turn This Thing Around > Put It In The Dumpsta 11/10/11 Atlanta, GA @ Masquerade:

DumpstaJam Prequel – Encore (2 of 2) with Nigel Hall, Ron Johnson & Terrence Higgins: Babies Making Babies (Sly Stone cover) > Turn This Thing Around > Put It In The Dumpsta 11/10/11 Atlanta, GA @ Masquerade:

Dumpstaphunk – Fame (David Bowie cover) 11/10/11 Atlanta, GA @ Masquerade:

Dumpstaphunk – Blueswave (new song) 11/10/11 Atlanta, GA @ Masquerade:

Dumpstaphunk – Water (Graham Central Station cover, first time played) 11/10/11 Atlanta, GA @ Masquerade:

Dumpstaphunk – If I'm In Luck, I Just Might Get Picked Up (Betty Davis cover) 11/10/11 Atlanta, GA @ Masquerade:

Dumpstaphunk with Nigel Hall – Meanwhile 11/10/11 Atlanta, GA @ Masquerade: