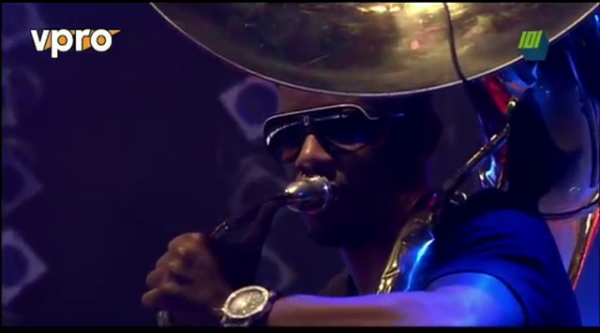 Now that The Roots are on Late Night with Jimmy Fallon they can't log 100+ days a year on the road like they used to. However, they apparently still manage to sneak in weekend trips to Europe for festival gigs like this.
Here, I bring you a full ~60 minute pro-shot tv broadcast video of The Roots at the Lowlands Festival in Biddinghuizen, Netherlands on August 21, 2011. At this point in time, The Roots were bass-less. Owen Biddle, their bass player since early 2008, had just left the band and they hadn't yet picked up new bass player, Mark Kelley. Not to worry, Damon Bryson, aka Tuba Gooding Jr., holds the low end down on sousaphone.
This video initially appeared as a DVD download over at dimeadozen.org. I took the liberty of splitting it and posting to youtube so a wider audience can enjoy it. So enjoy…
Also, pay special attention to video 5 of 5, where Black Thought blacks the f— out spitting Kool G Rap's "Men @ Work" verses. Absolutely ridiculous.
The Roots (1 of 5) August 21, 2011
Biddinghuizen, The Netherlands @ Lowlands Festival
Intro > How I Got Over > Here I Come > Mellow My Man:

The Roots (2 of 5) August 21, 2011
Biddinghuizen, The Netherlands @ Lowlands Festival
Mellow My Man (continued) > Drums > Mellow My Man > Jusufckwithis > Fantastic > You Got Me Intro:

The Roots (3 of 5) August 21, 2011
Biddinghuizen, The Netherlands @ Lowlands Festival
You Got Me > Sweet Child O' Mine > Bad To The Bone > You Got Me > Immigrant Song / Monster:

The Roots (4 of 5) August 21, 2011
Biddinghuizen, The Netherlands @ Lowlands Festival
Immigrant Song / Monster (continued) > Get Busy > Jungle Boogie > The Next Movement > The Seed:

The Roots (5 of 5) August 21, 2011
Biddinghuizen, The Netherlands @ Lowlands Festival
The Bottle (Gil-Scott Heron cover) > Move On Up (Curtis Mayfield cover) > Men @ Work (Kool G Rap & DJ Polo cover):