Robert Glasper Trio 2/11/12 Improvisation > ?Improv?, You (Q-Tip cover)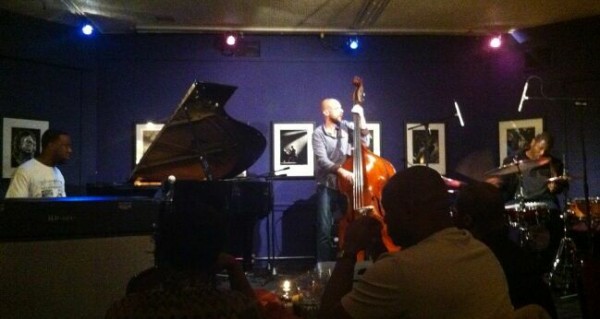 When Robert Glasper arrived at St. Louis' premier jazz venue, Jazz At The Bistro, he promptly apologized for twice canceling prior engagements at the club (one due to the birth of his child and another due to a call from Maxwell to go on tour). He more than made up for it with 2 sets of his pensive yet blissful piano playing. With him were fellow Houstonian Alan Hampton on upright bass and St. Louis native Mark Colenburg on the drum kit.
Glasper recounted how he met Colenburg back in 1999 at this very club and how he recommended Colenburg to Common for the Like Water For Chocolate tour. Quite expectedly, Colenburg showed and proved in his hometown with two snare drums, plenty of chops, and a heavy nod to J Dilla's fluid yet angular sense of rhythm.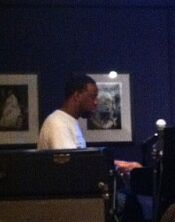 With the news of Whitney Houston's unexpected passing, Glasper dedicated the first tune to her, beginning the 20+ minute piece with a meditative and lengthy solo piano improvisation. After a short "J Dillalude", Glasper jokingly name dropped 11 of the 12 guests appearing on his new album, Black Radio, and reminded everyone that the new album drops in 2 weeks. In his words, "cop that". He closed the early show by taking requests, to which at least two audience members immediately shouted "F.T.B." without hesitation. When someone asked "what does it stand for?", Glasper declined to answer, preferring to "keep it off record". Your guess is as good as mine. Notably, the trio teased The Roots' Grammy award winning song, "You Got Me", as the final notes of the set.
Playing to a totally different, and noticeably younger and whiter, crowd for the late show, the trio stretched out much further. The set began with 30 minutes of non-stop music that shifted from on point jazz changes to open solos to an improvisation in which Glasper took a candle holder from the front table and held it to the piano strings as he played. (In fact, this is the section you hear on the streaming audio, above). After an hour of mesmerizing sounds, as icing on top, the show closed with a vamped out instrumental version of Q-Tip's track "You" from The Renaissance album. Completely satisfied, the crowd didn't push for an encore, content to disperse back out into the cold night.
Here at Funk It, we like to bring only the choice content. So download our full 130 minute audio recording and don't forget to spread the word about this blog to other like minded music lovers!
Robert Glasper Trio
February 11, 2012
St. Louis, MO @ Jazz At The Bistro
Source: internal mics > Tascam DR-2d > WAV > Cool Edit Pro > FLAC
Location: In my jacket pocket. Early show: 2nd table dead center. Late show: 2nd table slightly to the right.
Recorded by RLBayers for Funk It Blog (http://funkit.virose.net/).
Early Show: 7:30pm
01. Glasper speaks
02. Canvas (Dedicated to Whitney Houston) >
03. No Worries *
04. J Dillalude
05. Drum solo > F.T.B. > You Got Me outro
Late Show: 9:30pm
01. Glasper speaks
02. Rise And Shine > drum solo > bass solo > Improv # >
03. ???
04. Glasper speaks
05. Smells Like Teen Spirit [Nirvana]
06. G & B (inc. bass solo) >
07. I Have A Dream [Herbie Hancock] >
08. You [Q-Tip]
Robert Glasper: piano, fender rhodes (on F.T.B. only)
Alan Hampton: bass
Mark Colenburg: drums
* My batteries died so about 6 or 7 minutes is missing in the middle. The track fades in and out at 4min43sec.
# Robert asked the audience member at the front table for the glass candle holder (with the small lit candle in it), then Robert held the candle holder to the piano strings while playing.