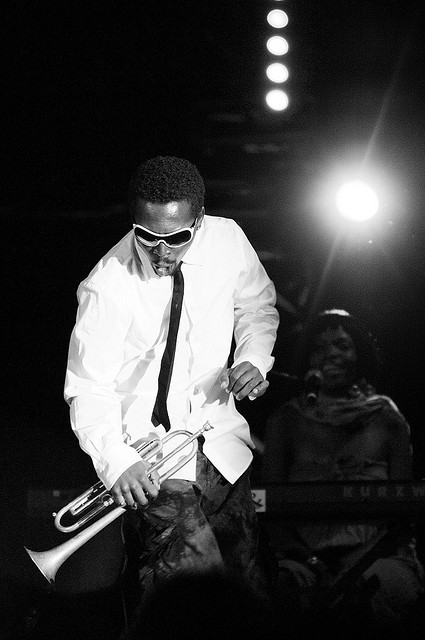 Roy Hargrove & The RH Factor – Hardgroove 4/2/04 Cully Jazz Fest, Switzerland
Shortly after D'Angelo disbanded The Soultronics in late 2000 to begin working on his (still) long awaited follow up to Voodoo, Roy Hargrove, a former member of The Soultronics and an established jazz musician in his own right, decided to take his music in a more funk and soul oriented direction.
In late 2002, Hargrove debuted his new band, The RH Factor, at the Monterey Jazz Festival. This new group included two other Soultronics alumnus, Chalmers "Spanky" Alford and "Brother Jacques Schwarz-Bart. Your interest should be piqued. If not, just press play and listen to the interplay of the dual drum kits held down by Willie Jones III and Jason Thomas. Add the keyboard stylings and soulful vocals of Miss Renée Neufville and it is clear that Mr. Hargrove had hit upon quite a combo.
The band went on to put out an EP and 2 albums featuring many guests, including D'Angelo, Q-Tip, Meshell Ndegeocello, Erykah Badu and Common. All 3 discs are highly recommended. In the following years, Hargrove continued to tour sporadically with The RH Factor in Europe, although with various members changes. To my knowledge their most recent tour was in 2009. Let's hope that Hargrove again decides to divert his attention from his straight ahead jazz in favor of the deep jazz funk that this group produces.
Roy Hargrove & The RH Factor
April 2nd, 2004
Cully Jazz Festival, Switzerland @ Chapiteau de Cully
FM/SBD > ? > CDR > EAC > WAV > MP3
MP3 DOWNLOAD LINK: http://funkit.minus.com/mWKHgawh9
1. In A Silent Way 7:18
2. It's About That Time 6:14
3. It's About That Time (cont.) 4:51
4. Hardgroove > Pastor T 24:06
5. Forget Regret 10:40
6. "Truth Be Told" 3:50 (fade out, end)
Roy Hargrove (tp, voc)
The RH Factor:
Renée Neufville (voc, keyb)
Keith Anderson (ts, as)
Jacques Schwarz-Bart (ts, f, g)
Bobby Sparks (keyb, org)
Chalmers "Spanky" Alford (g)
Reggie Washington (b)
Jason Thomas (dr)
Willie Jones III (dr)