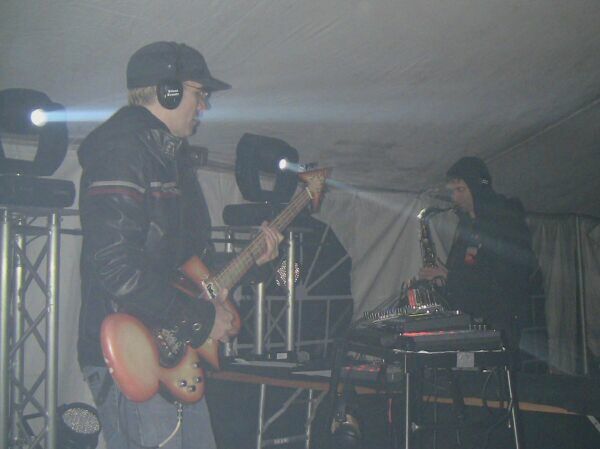 Continuing the Bear Creek Music Festival video flood, we have 1 video of Skerik with Freekbass in the Silent Disco, 2 videos of Skerik with Garage A Trois, and 3 videos of Skerik with Jacob Fred Jazz Odyssey. How's that for a christmas gift?

The Silent Disco is a new concept at music festivals, where everyone in the audience wears wireless headphones with a direct feed to the music. I caught a couple of DJs in the Silent Disco and it was really neat to take your headphones off and listen to the sounds people make.
Skerik & Freekbass, though, took it to another level. The sounds this duo made in my ears were stirring, exhilarating, and unique. Unfortunately these sounds will probably never be heard again, as I didn't bring an audio recorder to get a SBD patch (fingers crossed that the soundguy or someone affiliated with the festival recorded it). You can check out this video, but you definitely won't get the full experience. I guess I could have held the headphones up to my video camera's external microphone and picked up some of it, but I didn't think of it at the time…
Skerik & Freekbass in the Silent Disco 11/11/11 Bear Creek Music Festival:

Next up, two Garage A Trois videos. Just take Skerik, Mike Dillon, Stanton Moore, and Marco Benevento, put them in jumpsuits in 30 degree weather in the Florida swamp, and this is what happens.
Garage A Trois – Earl Harvin 11/11/11 Bear Creek Music Festival:

Garage A Trois – Rescue Spreaders 11/11/11 Bear Creek Music Festival:

Finally, we have Jacob Fred Jazz Odyssey with a horn section of Skerik, Mark Southerland, Chris Noonan, & Jonathan Lloyd, performing the first 2 tracks from The Race Riot Suite.
Jacob Fred Jazz Odyssey – Black Wall Street 11/11/11 Bear Creek Music Festival:

Jacob Fred Jazz Odyssey – Black Wall Street (cont.) 11/11/11 Bear Creek Music Festival:

Jacob Fred Jazz Odyssey – The Burning 11/11/11 Bear Creek Music Festival: