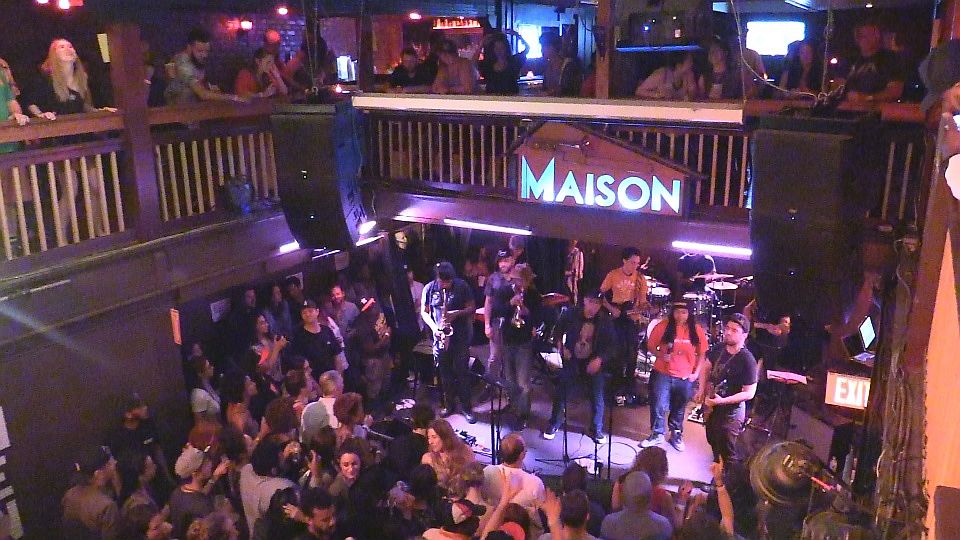 The Killa 4 Dilla II – April 30, 2016
New Orleans, LA @ Maison (actually started 5/1/16 @ 3:30am)
Part 1 of 2: ???, The Light (with Ivan Neville, Ian Neville & Nikki Glaspie), [Alvin Ford Jr exits, Louis Cato enters], Thelonius > Players > Get Down > U and Ur Smile > 2 You 4 You, [Louis Cato exits, Adam Deitch enters], Thought U Wuz Nice, So Far To Go

Bee Getz as quoted in his NOLA Jazz Fest After-Dark 2016 overview review at Live For Live Music:
After the rousing success of their first endeavor, a late-night, post-BUKU throwdown, FIYAwerx Productions revealed a Jazz Fest after dark redux, and the Killa 4 Dilla II was born just days before the show. The FIYA Dept had this one tucked up their sleeve for a few weeks, but once they announced the second edition of their J Dilla tribute, the excitement around the city was palpable. Boasting a roster of jazz-funk heavyweights with a healthy appreciation for hip-hop history, the band came together in short order to summon a ghost of The Ummah. Lacing us with two hours of classic Jay Dee, this was Welcome to Detroit, the Frenchman Street edition.
The ensemble included the likes of Borahm Lee (keys and samples), Nate Edgar (bass), Nicky Cake Cassarino (guitar), Ian Neville (guitar), Maurice "Mobetta" Brown (trumpet), Khris Royal (sax and effects), Alvin Ford Jr (drums), Adam Deitch (drums) and emcees Nikki Glaspie and M@ Peoples. The outfit ambled on stage just after two in the morning, and deftly delivered a cadre of bangers that had us "Body Movin'" and crush-groovin' late into the night. A student of the James Yancey pantheon, Borahm Lee was a revelation; a true-school beat conductor for this focused free-for-all, playing choice Rhodes betwixt a bevy of samples and looping gymnastics. Soulquarian essential oils were in the air on Common's "The Light", and the energy turned Nthfectious; Cassarino's slinky Spanky Chalmers licks, Edgar's Pino Palladino was perfection, and Glaspie's mojo was workin' through Rashid's effervescent verses, the dreaded femcee gripping the mic like it was mama's gun. Another period piece, Slum Village's "Jealousy" was handled with verbal authority by M@ Peoples. This talented local emcee shined on a vast array of Dilla-gence throughout. Brown and Royal passed the champion sound forth and back, and Ford was steady-clicking a metronome of Dillafication, the off-beat/on-beat, blunted breaks mined from a Conant Gardens bassment.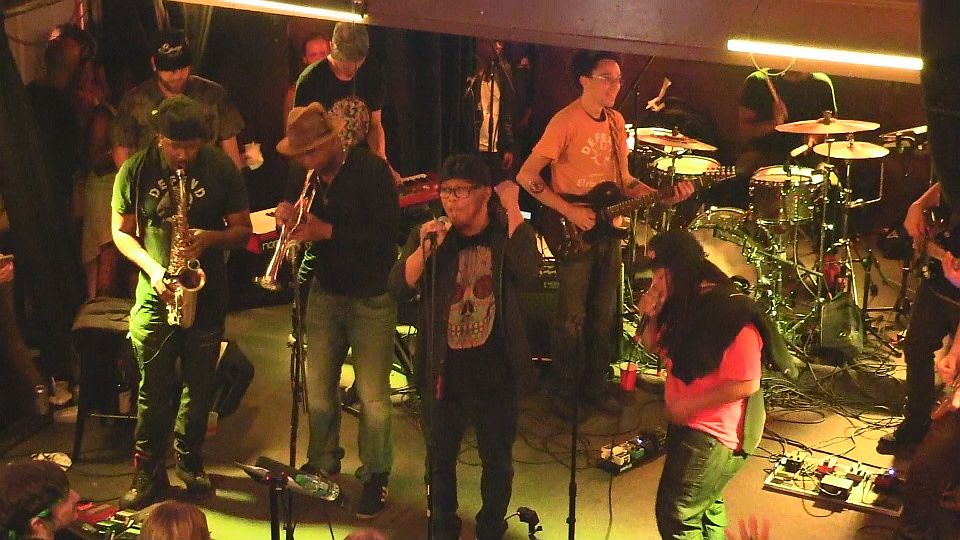 Miraculously, the man, myth, legend, the all-galaxy cat himself, Louis Cato appeared out of thin air and relieved Ford on the drum kit; a segment of virtue and virtuoso, this was beyond Filthy Mcnasty. Naturally, it being a FIYA Dept hip hop show in NOLA, the boy wonder Adam Deitch emerged to nail the illest Iverson crossovers. Lettuce's hip-hop heartbeat got luscious on a lucid dreaming "Lightworks," an MPC piece of masterpiece theater found on Yancey's final finished document, Donuts. The Killa chorale continued to bless the Maison massive by honoring the legacy of hip-hop's greatest producer; emotional readings of several undying soundtracks to our lives included "Runnin'" (The Pharcyde) and the SV/Common slab of heat rocks "Thelonious." Most treasured was an sojourn through this writer's amaranthine anthem: De La Soul's 1996 word-to-the-wise "Stakes is High". James Casey and the Mayor of *my* New Orleans Derrick "Smoker" Freeman assumed the role of Plug-One and Plug-Two; this duo led the crew through golden-age, rap-superhero theme music.In a word: FIYA. A new generation of Native Tongues had been reinstated. Vibes? Vibrations. Jay. Love. JazzFest.
The Killa 4 Dilla II – April 30, 2016
New Orleans, LA @ Maison (actually started 5/1/16 @ 3:30am)
Part 2 of 2: ??? > Lightworks > ??? > Jealousy, Runnin' (Can't Keep Running Away) > Stakes Is High, Encore: [Adam Deitch exits, Nikki Glaspie enters], Think Twice

The Killa 4 Dilla II:
Borahm Lee – keyboards
Alvin Ford Jr. – drums (beginning until The Light)
Louis Cato – drums (Thelonius > 2 You 4 You)
Adam Deitch – drums (Thought U Wuz Nice > Stakes Is High)
Nikki Glaspie – drums (Think Twice), MC (on The Light)
Nate Edgar – bass
Nick Cassarino – guitar
Maurice Brown – trumpet, MC (on 2 You 4 You, ??? before Lightworks, & Jealousy)
Khris Royal – saxophone
Ivan Neville – vocals (on The Light)
Ian Neville – guitar (on The Light & Runnin')
M@ Peoples – MC (on Thelonius & Players)
James Casey – MC (on Runnin', Stakes Is High & Think Twice)
Derrick Freeman – MC (on Stakes Is High)