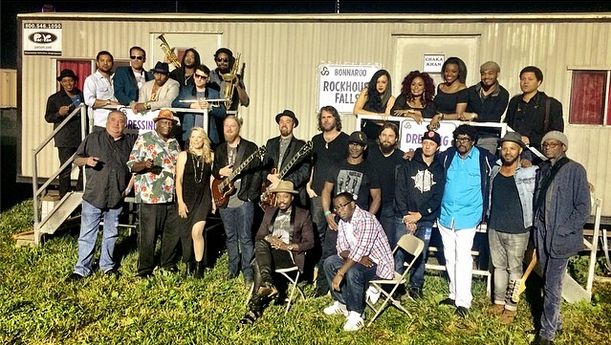 Derek Trucks Bonnaroo Superjam
June 14, 2014 – 12am
Manchester TN, @ That Tent – Bonnaroo Music Festival
SBD > webcast > Cool Edit Pro > WAV > CD Wave Editor > dbpoweramp > MP3
FULL MP3 DOWNLOAD: HERE
01. Intro by Hannibal Buress
02. Eleanor Rigby [The Beatles cover]
03. Keep On Growing [Derek & The Dominos cover]
04. Who Knows What Tomorrow May Bring [Traffic cover]
05. Darlin' Be Home Soon [The Lovin' Spoonful cover]
06. Kissing My Love [Bill Withers cover]
07. Respect Yourself [The Staples Sisters cover]
08. Everybody's Gotta Change Sometimes [Taj Mahal]
09. I Can't Turn You Loose [Otis Redding cover]
10. Statesboro Blues [The Allman Brothers Band cover]
11. These Arms Of Mine [Otis Redding cover]
12. Space Captain [Matthew Moore / Joe Cocker cover]
13. You've Got A Friend [Carol King / Donny Hathaway cover]
14. Signed, Sealed, Delivered [Stevie Wonder cover]
15. What Is And What Should Never Be [Led Zeppelin cover]
16. Until You Come Back To Me (That's What I'm Gonna Do) [Stevie Wonder / Aretha Franklin cover]
17. Tell Me Something Good [Rufus & Chaka Khan]
18. Shining Star [Earth Wind & Fire cover]
Encore:
19. Sing A Simple Song > I Want To Take You Higher [Sly & The Family Stone cover]
Derek Trucks – guitar
Susan Tedeschi – guitar, vocals
Tim Lefebvre – bass
JJ Johnson – drums
Tyler "Falcon" Greenwell – drums
David Hidalgo – guitar, vocals (Who Knows What Tomorrow Will Bring)
Eric Krasno – guitar
Nigel Hall – keys, vocals (lead vox on Respect Yourself, You've Got A Friend & Shining Star)
Kofi Burbridge – keys, flute?
The Shady Horns: Ryan Zoidis (sax), James Casey (sax), Eric Bloom (trumpet)
Alecia Chakour, Jasmine Muhammad, ?Mark Rivers? & Mike Mattison – background vocals
Willie Weeks – bass
James Gadson – drums (enters on t6)
Adam Deitch – drums (enters on t6)
Saunders Sermons – vocals, trombone (on Kissing My Love)
Taj Mahal – guitar, vocals (on t8 to t11)
Anthony Hamilton – vocals (on These Arms Of Mine & Signed Sealed Delivered)
Ben Folds – piano, vocals (on Space Captain)
Chaka Khan – vocals (t14 to t17)
Andrew Bird – ??
Karl Denson – ??
Group photo by Re:Fresh Media.
Live shots by John Partipilo / The Tennessean.