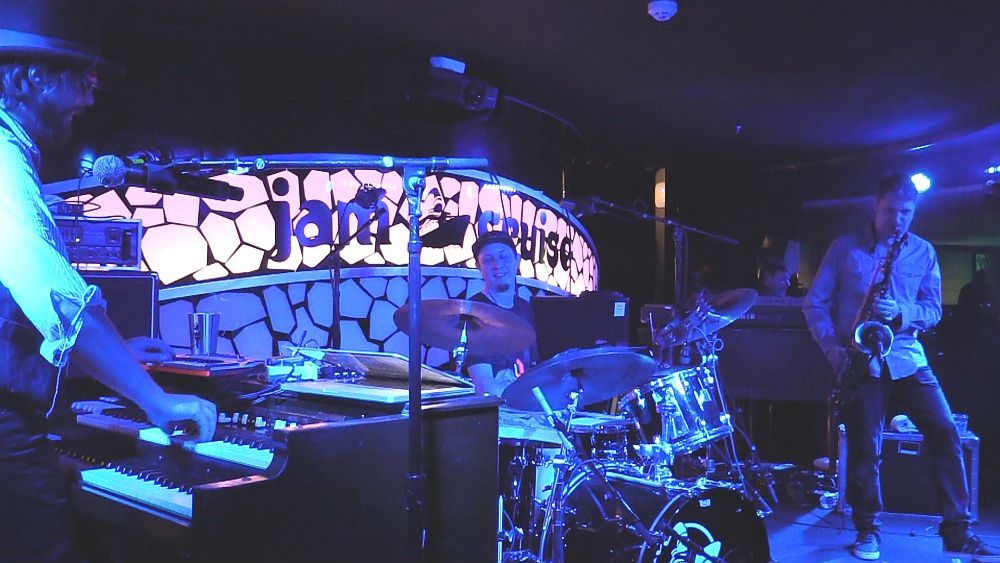 Worship My Organ 1/9/16 Jam Cruise – Part 1 of 5:

Worship My Organ, born as a NOLA Jazzfest engagement, set up shop in the Black and White Lounge, ready to do business. The collaboration of Robert Walter, Skerik, Adam Deitch and Marco Benevento is a maniacal one. For one hour and fifty-seven minutes, the fearsome foursome did not relent, and the music never stopped. The sounds arrived in a series of waves cloaked in frightening darkness; kicking down heady vamps and joints from the most demonic places, Walter, Benevento, Adam Deitch and Skerik unleashed a lesson in sonic bondage and tourniquet terror. Skerik's inimitable notes serenaded with sadistic intentions.
Drummer Deitch brought out the best in his collaborators, and he channeled a particular personality of his foil that suits the moment's need. On this night, Deitch was baiting and surrendering to the flow, playing loose and lyrical. Adam, utilizing a garbage can and its lid to augment his floor tom, began to unveil the classic hip hop knock with his lead right foot.
Commandeering the ship, Deitch set the table for Skerik to get diabolical, and unleash his patented spastic shrieks, the torrid response to the Walter/Benevento duality. Each keyboard player found a lane to drive, be it Hammond, Rhodes, or Wurlitzer, and Skerik needed not a reason to get weird. The drummer remained the anchor and the captain of this beautifully nightmarish séance of complete improvisation. Worship My Organ was simultaneously progressive and danceable. This was trip hop and free-Jazz, on steroids. The key tune was the performance itself.
–Bee Getz as quoted in his Jam Cruise 14 overview review at Live For Live Music.
Worship My Organ 1/9/16 Jam Cruise – Part 2 of 5:
(listen for The National Anthem by Radiohead around 10 minutes in!)

Worship My Organ 1/9/16 Jam Cruise – Part 3 of 5:

Worship My Organ 1/9/16 Jam Cruise – Part 4 of 5:

Worship My Organ 1/9/16 Jam Cruise – Part 5 of 5:

AUDIO DOWNLOAD: FLAC TORRENT