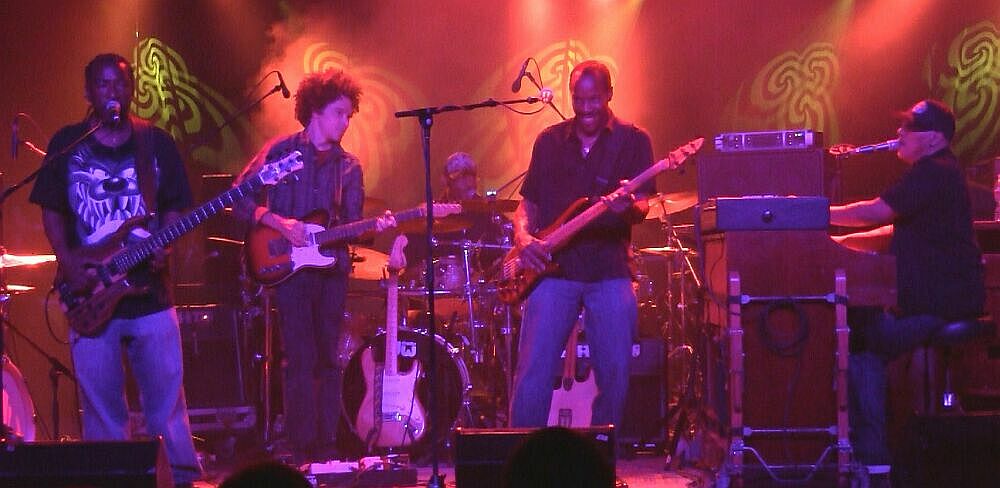 "Sleep is NOT overrated!" I once heard Ivan Neville exclaim between songs at a late night Maple Leaf gig. He should know, as one of the hardest working musicians in New Orleans during Jazz Fest week. (It's usually a competition between him, George Porter Jr. & Stanton Moore as to who does the most gigs in that 10 day period.) For Jazz Fest 2011, Ivan did at least 9 gigs (if not more) during the second weekend, 3 of which were with Dumpstaphunk.
Gasman Chronicles > Do Ya > Deeper:

On Thursday, May 5th, Dumpstaphunk opened for Soulive & Lettuce at the Royal Family Ball at the Contemporary Arts Center. My pal Theo showed up and set up his audio recording equipment dead center, about 20 feet from the front rail (much closer than FOB). I clamped my video camera to the side of his mic stand, zoomed it in tight and just let it roll for the entire set. Here, I present 45 minutes of highlights from their 70 minute set. Note the rare cover of The Isley Brothers' "Fight The Power" as the set closer.
Lt. Dan, Put It In The Dumpsta, Everybody Want Sum, Fight The Power:

The day before, on Wednesday, May 4th, Dumpstaphunk played an afternoon in-store performance at the Louisiana Music Factory record store on Decatur Street. This is an interesting set because Ivan is playing Joe Krown's organ and without clavinet. Here is the full 35 minute set:
01. Everybody Want Sum – Do Ya:

02. Oughta Know Better:

03. Gasman Chronicles – Deeper (part 1/2):

04. Deeper (part 2/2):

On Sunday, May 9th, Dumpstaphunk closed down the week's festivities late night at Tipitina's for the 5th year in a row. The highlight for me was the unexpected James Brown cover, The Payback, sung by Nick Daniels. I didn't shoot this video (I was too enthralled in the front row), but I sure am glad that my friend Chris Rogers was holding up his flash video recorder. Now I can relive one of my favorite moments from Jazz Fest 2011, as drummer Raymond Weber gives us those "hits" we so desperately need.
The Payback (James Brown cover):

BTW, this was a crosspost with Live Music Blog: NOLA. Definitely check them out to keep up to date with the New Orleans music scene!