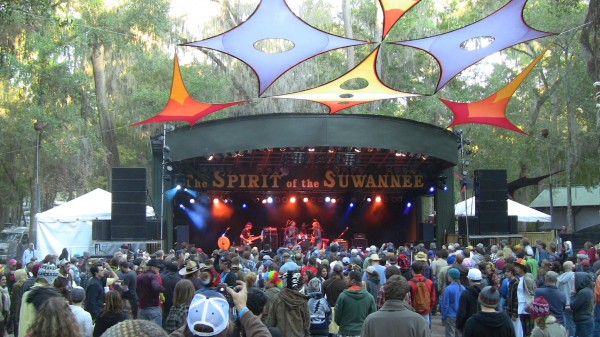 As you can image, Bear Creek Music Festival was magical! The Spirit of the Suwannee Music Park was amazing, the artists were amazing, and the people were amazing (and my close friends know that I don't use that word often).
The music park is perfect, all of the stages are very close together yet there is very little audio bleed through. The vibe is loose and open and everyone is there to party and have a great time. I met a ton of people and I have never seen soo many audio and video tapers in one place. I was very surprised by the amount of people shooting video on either video cameras or SLR cams with external mics. From what I hear, this is one of the only festivals that is a complete free for all as far as shooting video is concerned.
Needless to say, I was a wild man and I ended up shooting 14 hours of video over the course of 3 days. I could have done much more, but I ran out of space and had to borrow a memory card on the last night (thanks Bob!).
Over the next few months I will be featuring many of these videos here. For now, check out this teaser video to whet your appetite.
Funk It's Bear Creek Music Festival 2011 teaser video:

Funk It's Bear Creek Music Festival 2011 teaser video:
01. The Funky Meters – Cissy Strut
02. Marco Benevento Trio with Johnny Vidacovich – Junco Partner
03. The Trio: George Porter Jr, Johnny Vidacovich & Jennifer Hartswick with Freekbass – Don't Be Squeezin' My Heart
04. Jon Cleary's Piano, Bass & Drums – Tipitina
05. Eric Krasno's Chapter 2 – Nautilus
06. John Scofield's Piety Street Band – unknown
07. Freekbass & Skerik – Improv in the Silent Disco
08. Dr. Klaw with Jamie McLean & Sam Kinninger – Higher Ground
09. Dr. Lonnie Smith Trio – unknown
10. Jacob Fred Jazz Odyssey with Jonathan Lloyd, Chris Noonan, Mark Southerland & Skerik – The Burning
11. Orgone – Break In The Road
12. Medeski, Martin & Wood with Pee Wee Ellis – Where's The Music?
13. The Lee Boys with Matt Grondin, Khris Royal, ?Shamarr Allen? & unknown trombonist – Don't Stop Till You Get Enough
14. The New Mastersounds – Carrot Juice
15. Russell Batiste Band with George Porter Jr – Cissy Strut
16. The Coup – 5 Million Ways To Kill A CEO
17. Chali 2na Band – Get Focused
18. Snarky Puppy with Louis Cato – unknown
19. Garage A Trois – Rescue Spreaders
20. Medeski, Scofield, Martin & Wood – A Go Go
21. Anders Osborne, Eric Bolivar, Jamie McLean & George Porter Jr – Ya-Ya
22. Breakestra – unknown
23. Dumpstajam with Nigel Hall, Louis Cato, Eric Krasno, Freekbass & The Shady Horns – What Is Hip?
24. Lettuce – Sam Huff's Flying Ragin' Machine
25. Dumpstaphunk – Put It In The Dumpsta
26. Robert Walter, Eddie Roberts, Jamie McLean, Louis Cato & Ivan Neville – Standin' On Shaky Ground