Lionel Loueke Trio – Seven Teens 2/3/12 Louisville, KY @ Comstock Hall – UofL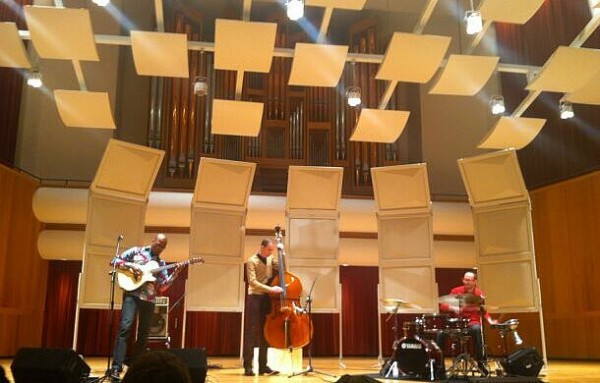 Last night I saw Lionel Loueke & his trio make sounds that were at times radiant, beautiful, and even mischievous, but always, in Herbie Hancock's characterization, fearless. As Mr. Loueke himself put it last night, "there is some joy on the stage." In fact, the encore nearly brought tears to my eye.
Anyway, I tested out my new Tascam DR-2d recorder and pulled a pretty nice audio recording. You can listen to one track above, and the full recording can be found at dimeadozen.org.
UPDATE: An even better recording than mine has become available: here.
===============================================================
Herbie Hancock, ?uestlove, Pino Palladino, & Lionel Loueke – 6/12/05 Bonnaroo Superjam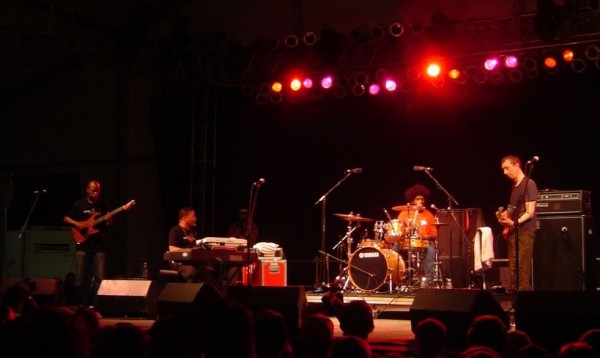 Also, while I'm on the Lionel Loueke tip, I want to share the MP3's of an impromptu Superjam at the 2005 Bonnaroo Music Festival that featured Herbie Hancock, Lionel Loueke, Pino Palladino, and Questlove. A few days after the performance, Questlove began posting the SBD MP3's one by one to the okayplayer.com messageboards. I quickly scooped them up and I have gone back numerous times and enjoyed this 90 minute set of improvisation. The full download is here. BTW, Questlove is the one that named the tracks, but they are all improvisations.