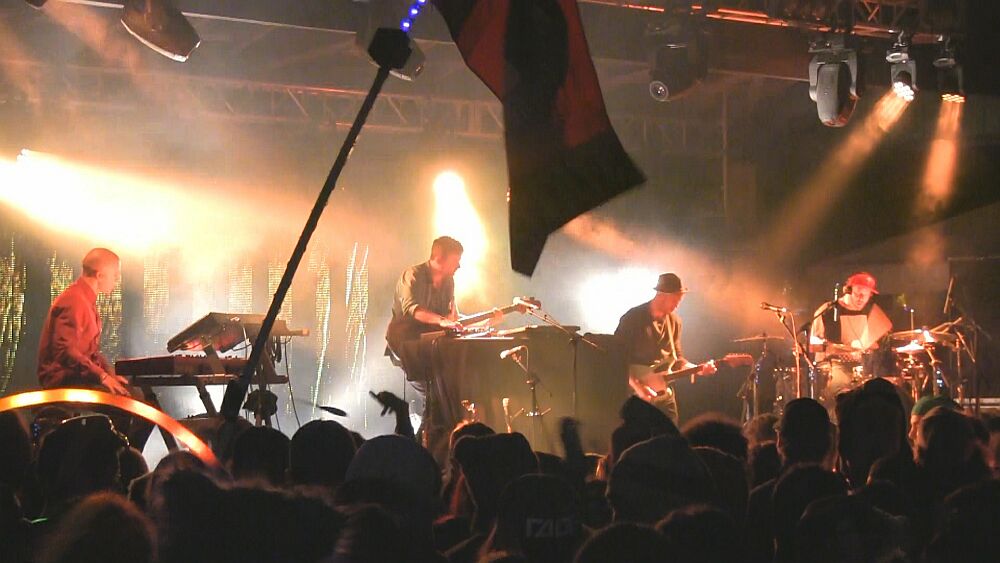 Bonobo Live Band at Bear Creek Music Festival 2013
Words by Bee Getz. Video by FunkItBlog.
One of the most revered and cherished performances in Bear Creek Music Festival history was that of Bonobo Live Band in 2010, who produced a brook of organic electronica that served to arouse the inner-naturalist within the festival. The news of Simon Green and Co.'s return was greeted with elation when this year's lineup was announced; and in 2013, Bonobo would ornament the Amphitheatre Stage with another display of lush, orchestral electronica.
Part 1 of 10:
Cirrus, Sapphire

Launching the set with "Cirrus" from newest album The North Borders, Green was joined by drummer Jack Baker and the exceptionally talented woodwind/multi-instrumentalist Michael Lesirge. Soon the live setup would swell to encompass a three piece horn section, bassist, keyboards, and the breathtaking singer Szjerdene (pronounced "Jhurdeen"). The tall, dark songstress vocals fit naturally early ("Towers") and deep into the set ("Transits.") Various band members glided seamlessly in movements that ebbed and swayed with sharp intricacies, the music traversed between ambient and aggressive. Not content on staying behind the tables, Green would play bass guitar and walk around his elegant ensemble.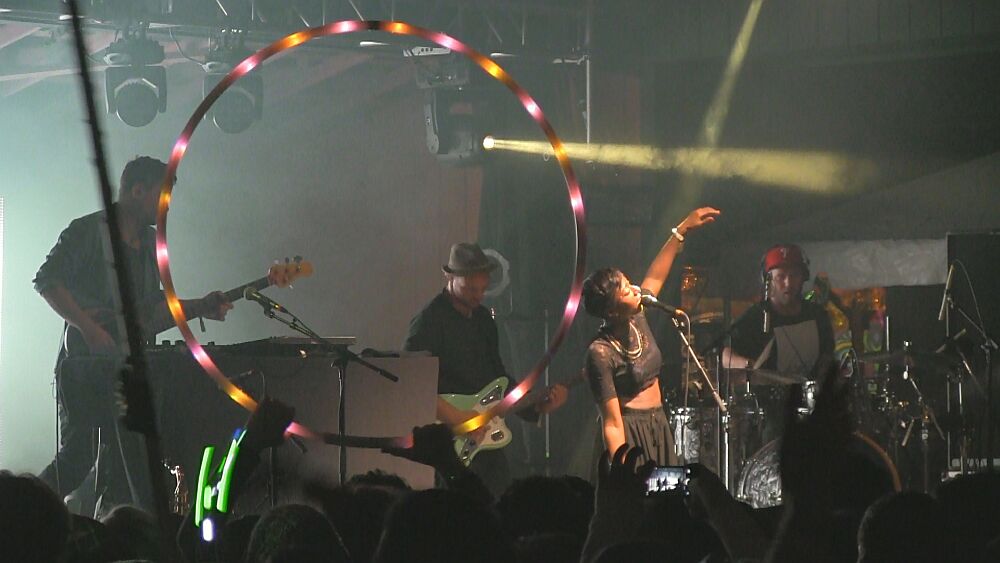 Midway through the set, Bonobo dropped solo production performance on his AKAI APC 40 and MPK 25, the vertical light rigs behind Simon aglow; he furiously tapped and twisted Black Sands ' Kiara" and later dropped into a bombastic "Ketto" off of Days to Come. The band smoothly joined back in and really rocked out with some jamming and solos, to satiate this particular audience.A run of Bonobo classics- including "Nightlite," "Reccuring," and "We Could Forever" showed tight and eclectic playing from everyone onstage, as these tracks have been performed for years with the live band. Another titanic selection, "El Toro," delighted dancers with its bossa nova and horn/string interplay. "Know You" saw Green wailing on drum pads, as the intertwining male and female vocal samples rang out over jungle beatscience. Bonobo Live Band concluded their superb and sophisticated set with a mouth-watering take on "The Keeper"; for those who doubt the "soul" within electronic music, this was mind-boggling truth to the contrary. – Bee Getz
Part 2 of 10:
Towers, Stay the Same

Part 3 of 10:
Kiara, Ten Tigers, Kong, Ketto

Part 4 of 10:
Ketto (continued), Emkay, First Fires

Part 5 of 10:
First Fires (cont.)

Part 6 of 10:
Jets, Nightlite, Recurring

Part 7 of 10:
Recurring (cont.), We Could Forever, El Toro (inc. drums + sax solos)

Part 8 of 10:
El Toro (cont.), Transits, Know You

Part 9 of 10:
Know You (cont.), Encore: The Keeper, Pieces

Part 10 of 10:
Pieces (cont.)

A full audio recording of this 2013 set is available here.