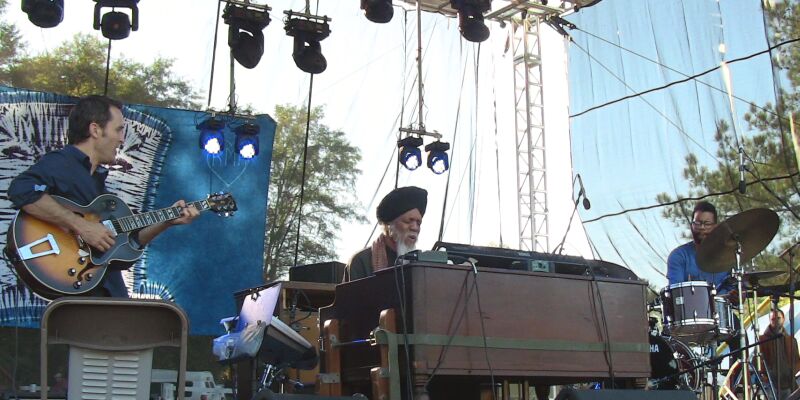 When we left Atlanta on Friday morning, our goal was to arrive at Bear Creek Music Festival, set up camp, and get our asses down to the Dr. Lonnie Smith Trio set at 3pm. After some fast driving and an even faster tent set up, we set out to explore the magical Spirit of the Suwannee Music Park with time to spare.
As we exited the campground area, I encountered the Big IV Ampitheater for the first time. I had seen pictures and heard stories, but now I was able to truly appreciate the wonder of this small piece of earth they call Suwannee. At that point in time, the Spam Allstars were on-stage with Pee Wee Ellis guesting.
As I pulled out my video camera to shoot my first video of the weekend, they began the James Brown classic, Cold Sweat! I started shooting immediately, then decided to try out my new press pass to enter the pit area. You can see at the end of the video as I try to enter and security informs me that my press pass only allows access to the pit during the first 3 songs of each set. Turned away, I stopped filming in order to better absorb this magical place with my own senses, rather than the camera. Accordingly, this particular video is less than 3 minutes long, but it shows some of the vibe on this Friday afternoon.
Spam Allstars w/ Pee Wee Ellis – Cold Sweat 11/11/11 Bear Creek:

Bear Creek is like late night at New Orleans Jazz Fest on steroids. You have to walk away from someone like Pee Wee Ellis in order to catch another legend like Dr. Lonnie Smith. I was excited for his trio in large part because of the drummer, Jamire Williams, who has played with Christian Scott, Robert Glasper, Gretchen Parlato, Bilal, and others from the NYC jazz/hip-hop scene. Although, I was equally impressed with guitarist Jonathan Kreisberg, whom I wasn't familiar with. Anyway, When the good organ doctor and his trio came out the silky smooth B-3 organ sounds wafted through the warm afternoon air and all was good…
Dr. Lonnie Smith Trio – Mellow Mood 11/11/11 Bear Creek:

Dr. Lonnie Smith Trio – Beehive 11/11/11 Bear Creek:

Finally, I'll include another early afternoon video, this one from Sunday morning. Breakestra took a rare trip out of the LA area to bring their non-stop medley of hip-hop samples to Florida, and I was able to capture a few bars…
Breakestra – Medley (Ring Of Fire > Greedy G > Shifting Gears > Champ > Because I Got It Like That > Funky Soul > Getcho Soul Togetha) 11/12/11 Bear Creek: