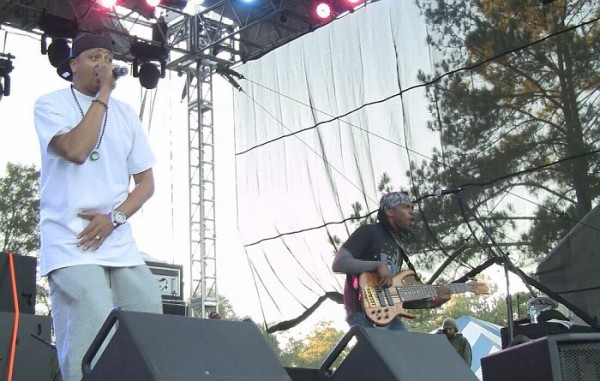 Bear Creek Music Festival was undoubtedly a funk fest, but there was a sprinkling of hip hop; and it was all live band hip hip, my favorite type.
Early Friday evening as dusk rolled in, Chali 2na and his band, The House of Vibe, locked shit down to a steadily growing crowd. Smiles were everywhere as the crowd anticipated a mind-blowing weekend. I shot a good 17 minutes of footage with my monopod held high.
This video is mainly tunes from Chali's one and only solo album, 2009's excellent and long awaited Fish Outta Water. Later in the set, Corey Glover, vocalist for Living Colour and more recently Galactic, joined for an old Jurassic 5 tune, Freedom. Unfortunately I only captured the 2nd half of this one. I guess I was too busy getting my party on and getting amped for the rest of the lineup that night at the Purple Hat stage, which included Garage A Trois, Medeski Martin & Wood, and Galactic.
Chali 2na & The House of Vibe Band 11/11/11 Bear Creek Music Festival
Get Focused > International, Comin' Thru > Don't Stop, Guns Up, Freedom (w/ Corey Glover):

(Download the full audio of Chali 2na's set here.)
Later that night, as the temperatures began to drop into the 30's, we headed to the heated indoor SOS Music Hall. The Coup was set up and ready to play, albeit to a very sparse crowd. After a heavy rock instrumental intro, Boots Riley busted out, spinning around in a leather tasseled overcoat. Pimp hand strong. Next, they busted out some classics before bringing out their secret weapon, Silk-E. If you don't know, just press play.
The Coup 11/11/11 Bear Creek Music Festival
5 Millions Ways To Kill A CEO:

The Coup 11/11/11 Bear Creek Music Festival
Bullets & Love > Everythang > We Are The Ones:

I totally wanted to enjoy The Coup's set longer, but I had to run back to the Purple Hat Stage so as not to miss the beginning of Medeski, Martin & Wood (videos coming soon).
After MMW's set, I caught some of Karl Denson's Tiny Universe covering The Rolling Stones' Sticky Fingers album (quite a let down and not very funky, IMO). I also caught a bit of KRAZ's DJ set (that's Eric Krasno of Soulive, Lettuce, and Chapter 2) in the silent disco. He was spinning Funkify Your Life by The Meters and tastefully tweaking some effects on top before getting into a mix of current hip hop.
At the same time, now well on the other side of midnight, Galactic was rocking the Purple Hat stage. As the temperature continued to drop into the low 30's and everyone could see their own breath, dancing was the only way to stay warm. At this point, Galactic brought out Chali 2na and Boots Riley to perform From The Corner To The Block. Unfortunately, Boots stumbled a few times with his verse as his voice got raspy and started to go out, likely due to having just finished a 75 minute set with his own band. Chali, however, kept things on point with a live version of his collab with Galactic, Think Back. There are many more things I could say about the Galactic set as it was truly one of the most enjoyable sets of the weekend, but I digress. (Peep the full audio download of Galactic's set here.)
Also, keep in mind that when Galactic finished at 1:30am, the night wasn't over, we still had Dr. Klaw from 2 to 3:30am and I shot that entire set (videos coming soon of course). And Dr. Klaw was followed by Mike Dillon's Hairy Apes BMX from 3:30 to 5am. (I only caught one song before calling it a night and crashing in my rugged and freezing tent.)
The following videos where not shot by me. (I didn't get any videos of Galactic for some stupid reason. I think maybe my hands were too cold!). But these videos do showcase Chali's appearance with Galactic, as well as the end portion of Chali 2na and his band's set, featuring solos from each band member.
Galactic with Chali 2na 11/11/11 Bear Creek Music Festival
Think Back:

Galactic with Chali 2na & Boots Riley 11/11/11 Bear Creek Music Festival
From The Corner To The Block:

Chali 2na 11/11/11 Bear Creek Music Festival
Freedom (w/ Corey Glover), Quality Control, One More Chance:

Chali 2na 11/11/11 Bear Creek Music Festival
What's Golden:

Chali 2na 11/11/11 Bear Creek Music Festival
Lock Shit Down, Rock Lobster, & band solos: