While I happened to be in Boston last weekend to cheer my sister in law on in the marathon, I was also able to take the whole family to Sculler's Jazz Club to catch Jose James, someone who has been on my must see list for quite some time now.
First we were treated to a great opening set by Jose's keyboardist, Kris Bowers and his group who had recently released a very forwarding thinking jazz/fusion/stretch album. The highlight of the opening set for me was the opening part of their last tune in which Kris set the tone with a beautiful solo rendering of the melody on his Fender Rhodes piano. You can hear it at the bottom of this page.
Less than 15 minute later Jose James and band jumped on stage for a stunning 63 minute set that began with 5 songs from his new album, While You Were Sleeping, which comes out on Blue Note Records on June 10th.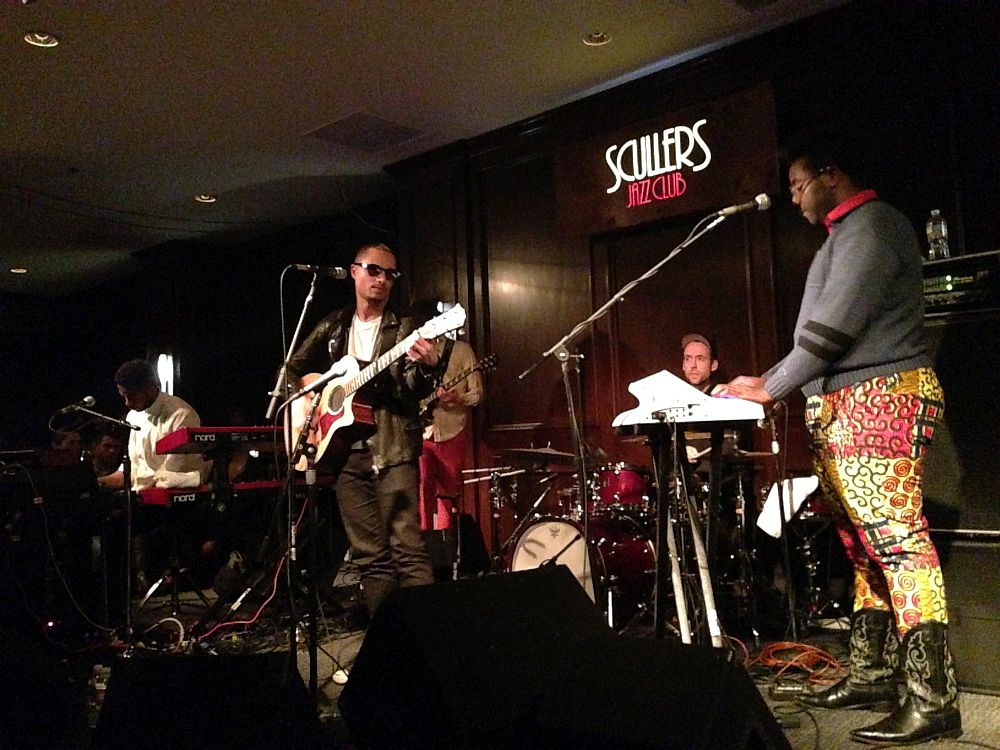 The 5 new songs, 3 which you can hear above, are definitely a new direction for Jose and are likely partly influenced by this new guitarist, Brad Williams. These were followed by Come To My Door, a beautiful cover of Simply Beautiful by Jose's Blue Note label mate the Reverend Al Green, and Trouble.
The real highlight, though, was the 20 minute set closer. It began with Jose's acapella remix/rendering of the Sam Cooke classic "A Change Is Gonna Come" before launching into Park Bench People (Jose's tune, which is arranged around Freddie Hubbard's "Red Clay" groove). The band stretches way out and then Jose brings it back with a distorted interpolation of Nirvana's "Something In The Way" before reprising Sam Cooke acapella again. It was nothing short of stunning and you have to scroll up to the top of this page and press play to hear it!
My location in the front row, just right of center, made for a great recording from my Tascam DR-2d in my shirt pocket. And you can download FLAC's of the entire show using the links below.
Jose James
April 18, 2014
Boston, MA @ Sculler's Jazz Club
internal mics > Tascam DR-2d > WAV > CD Wave Editor (tracking) > FLAC
Location: front row, right of center
Taped by FunkItBlog
TORRENT DOWNLOAD HERE
01. Angel
02. U r the 1
03. While You Were Sleeping
04. Anywhere U Go
05. Bodhisattva
06. Come To My Door
07. Simply Beatiful [Al Green cover]
08. Trouble
09. Park Bench People (inc. A Change Is Gonna Come [Sam Cooke] & Something In The Way [Nirvana])
Jose James – vocals, guitar
Kris Bowers – keys
Solomon Dorsey – bass, Moog synthesizer, vocals
Brad Williams – guitar
Richard Spaven – drums
==============================================================
Kris Bowers
April 18, 2014
Boston, MA @ Sculler's Jazz Club
internal mics > Tascam DR-2d > WAV > CD Wave Editor (tracking) > FLAC
Location: front row, right of center
Taped by FunkItBlog
TORRENT DOWNLOAD HERE
01. Wake The Neighbors
02. Forget-Er
03. #TheProtester
04. Forever Spring
Kris Bowers – keys
Solomon Dorsey – bass, Moog synthesizer, vocals
Brad Williams – guitar
Justin Tyson – drums