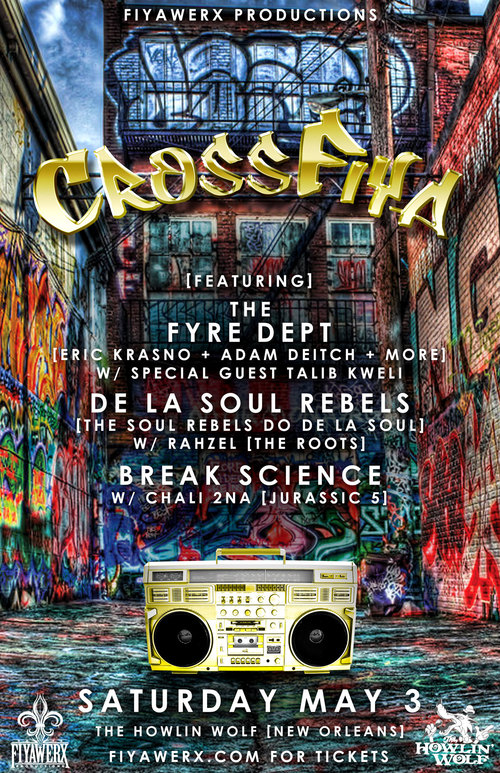 The Soul Rebels 5/3/14 New Orleans, LA @ Howlin' Wolf
Testify [Kanye West cover] (with Eric Krasno), Thank You [Jay-Z Medley] (inc. Ain't No Love & Hard Knock Life), My Time, I Made It, Show Me What You Got [Jay-Z cover]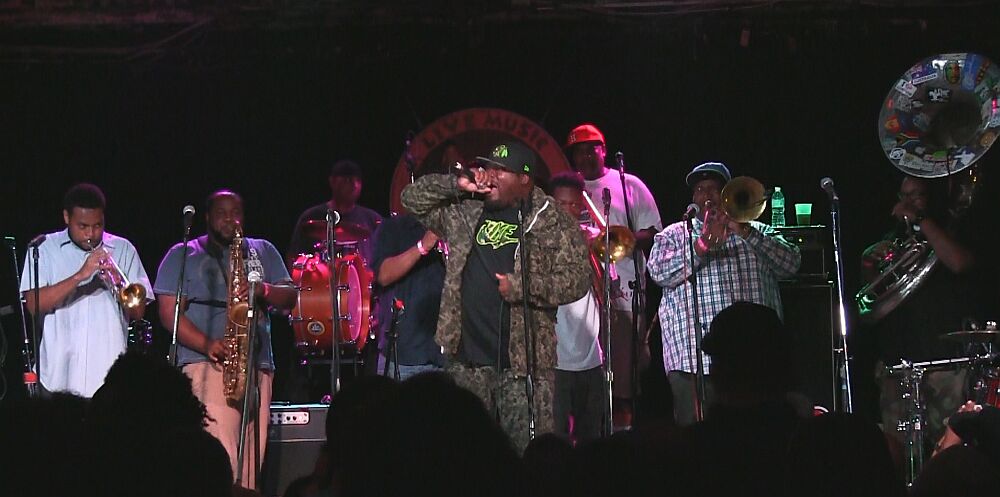 The Soul Rebels with Razhel 5/3/14 New Orleans, LA @ Howlin' Wolf
Rahzel solo set > Rock The Bells [LL Cool J cover]

===============================================================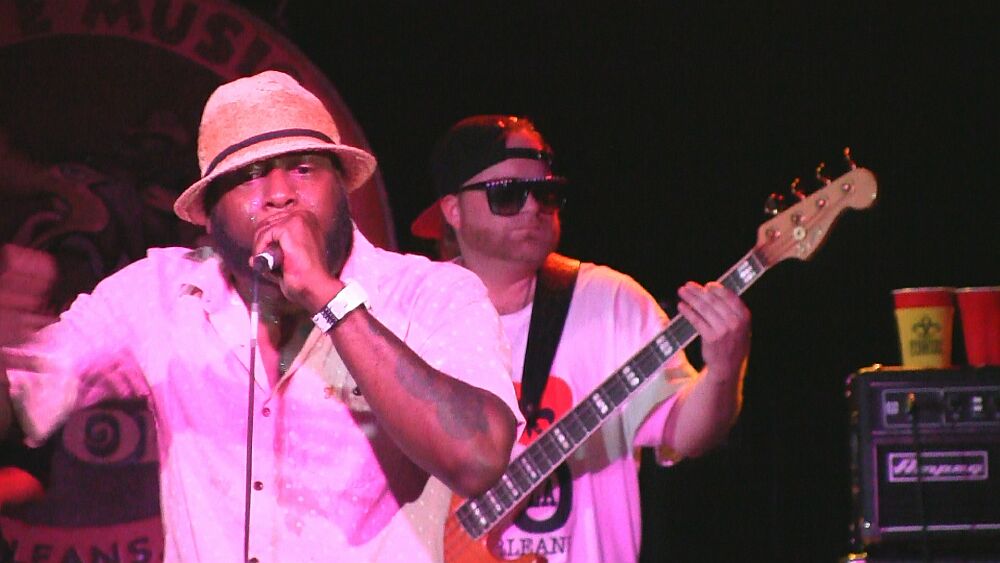 Words by Bee Getz:
Again, Fiyawerx Productions provided a break from the norm as it pertains to Jazz Fest, and this eclectic booking on the hip-hop side of the tracks provided a thrilling look at one of the best kept secrets in the game: Fyre Dept. This NYC- based production squad includes drummer Adam Deitch (clad appropriately in a NAS Illmatic t-shirt and his ubiquitous headphones), Eric Krasno on guitar, and the brothers Coomes, bassist E.D. "Jesus" and older brother (and Fyre Dept. OG) Tyler "TYCOON Beats." Break Science keyboardist Borahm Lee rounded out the team, and they took the stage after De La SOUL REBELS and proceeded to destroy the packed house with authoritative, meditative beats, samples and classic loops. Beginning with some Ghostface Killah and J Dilla instrumentals, soon the Fyre Dept was fully ablaze. Deitch held down the head snapping breaks, and the brothers Coomes' tasteful, minimalist approach had people marveling at how this here hip-hop sounded so alive, present, yet sacrificing absolutely no integrity in the name of dopeness.
Fyre Dept 5/3/14 New Orleans, LA @ Howlin' Wolf
??? > ??? > Body Movin' [J Dilla cover], Fever, ?That's The Way It's Got To Be?, Flankenstein > ???, ???

Within a few songs, Rahzel grabbed a microphone and stormed the stage. After some beatboxing workouts to get warm, "The Godfather of Noize" blessed the people with a distinctive medley of Whole Darn Family's "7 Minutes of Funk" break, interspersed with verses and portions of its two most popular children – EPMD's "It's My Thang" and Jay-Z/Foxy Brown's classic "Ain't No N*gg*." The Fyre Dept. then flawlessly worked into NAS' "NY State of Mind" instrumental while Rahzel delivered original lyrics, along with a version of Bob Marley's "Jammin'" for a refrain.
Fyre Dept with Rahzel 5/3/14 New Orleans, LA @ Howlin' Wolf
???, Ain't No Nigga [Jay-Z cover], NY State of Mind [Nas cover], Jammin' [Bob Marley cover] / Voice Box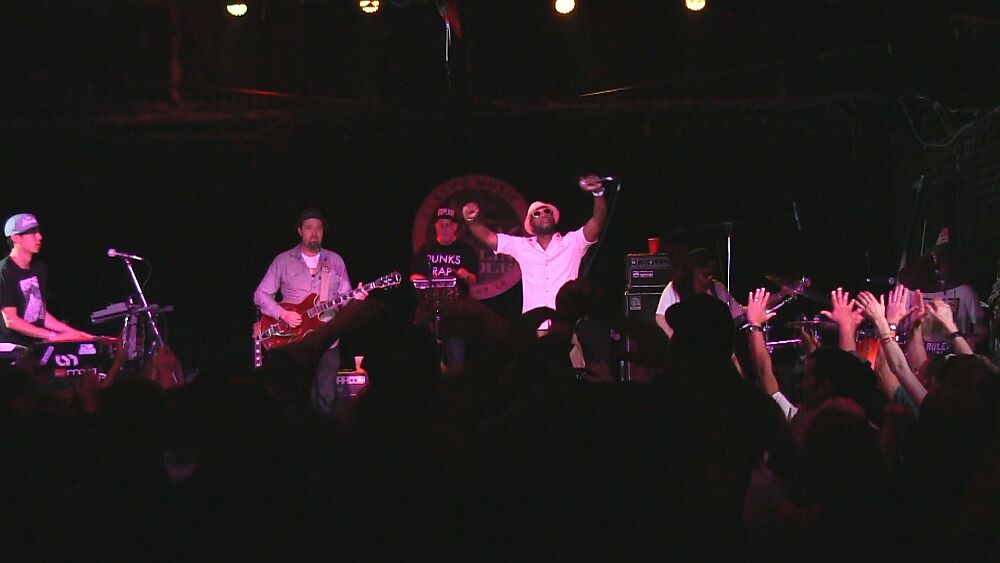 At this point in the show, things were wild on the dancefloor, yet extremely focused on the stage. The band brought out legendary Brooklyn MC Talib Kweli and the posse brought forth a medley of songs old and new. Beginning with "Cold Rain," Kweli showed everyone just why he's revered as a lyricist and performer. They brilliantly segued into his seminal anthem "The Blast" from the Reflection Eternal project of the Rawkus era; this slice of heat had damn-near everybody correctly pronouncing his name, with not a single thing left to question. "Hot Thing" was dedicated to all the lovers, and Kweli made sure to shout out Babyface as he dipped into this summertime park jam for the boo'd up set.
Fyre Dept with Talib Kweli 5/3/14 New Orleans, LA @ Howlin' Wolf
Cold Rain, The Blast, What's Real, Hot Thing, State of Grace, I Try, Get By

The Fyre Dept/Kweli collaboration reached fevered pitches as the BK MC and the veritable NY/LA dream team laced up a victorious version of "I Try" before spicing up things with a samba-influenced take on Kweli's uplifting mantra "Get By." This conclusion of the set had an army of heads chanting the chorus "Just to Get By" at the top of their one-hundred strong lungs; Fiyawerx Productions and the Fyre Dept. could agree on one thing, there was no putting out this CrossFiya.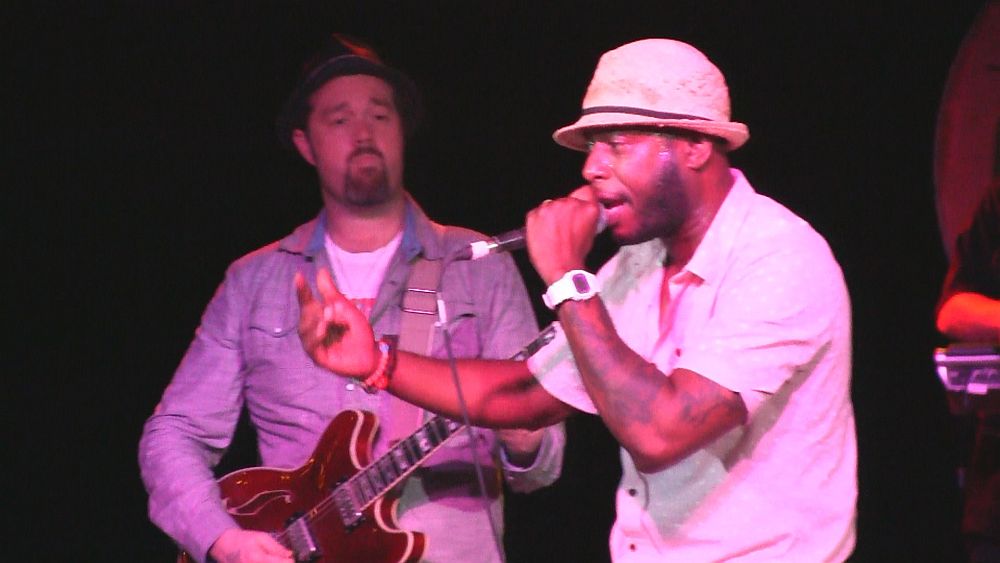 ===============================================================
Break Science 5/3/14 New Orleans @ Howlin' Wolf
Now You Want More, ???, Owner of a Lonely Heart [Yes cover], Brain Reaction, ???

Break Science with Chali 2na 5/3/14 New Orleans @ Howlin' Wolf
Guns Drawn, Comin' Thru, International