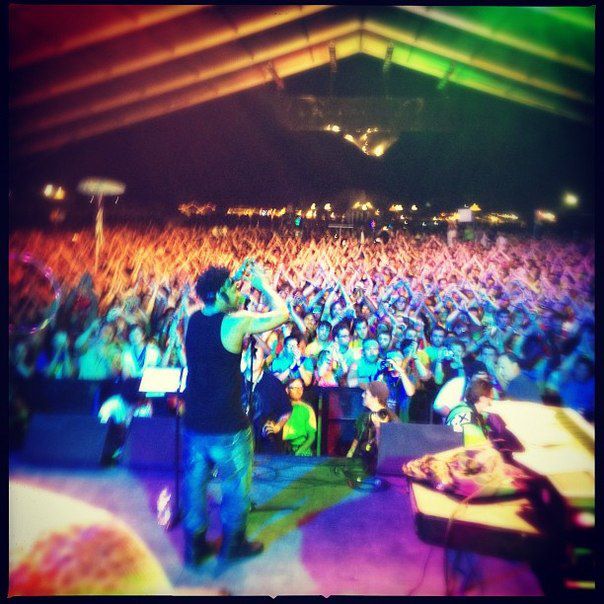 UPDATE: A new audio source has surfaced, which, in my opinion, has slightly better quality. Audio taper travelinbeat posted his recording of this superjam in February of 2013 as 24 bit flac files (which are no longer available). I have converted to 16 bit flac and you can download travelinbeat's new source right here:
MP3 (travelinbeat source): DOWNLOAD
16BIT FLAC (travelinbeat source: TORRENT DOWNLOAD
24BIT FLAC (travelinbeat source): NO LONGER AVAILABLE
Also, Bonnaroo365 has posted 4 youtube episodes about this superjam, a total of 39 minutes of interviews, behind the scenes, and live footage. The videos have been embedded at the bottom of this post.
————————————————————————————
Thanks to one of my close friends we have an excellent audio recording of D'Angelo's first U.S. performance in 12 years! On the morning of June 10, 2012 at 12:15am central time, Questlove hosted the Bonnaroo Music Festival Superjam and the rest is history. Finally, the Soulquarians reunited after 12 years!
UNTRACKED MP3: DOWNLOAD OR LISTEN
TRACKED MP3: DOWNLOAD
16BIT FLAC: TORRENT DOWNLOAD
24BIT FLAC: TORRENT DOWNLOAD
Questlove's Bonnaroo Superjam featuring D'Angelo & The Soulquarians
June 9, 2012 (actually 12:15am on June 10th, 2012)
Manchester, TN @ Bonnaroo Music Festival
Source: Schoeps mk4v (DINa/FOB) > kcy > Sonosax SX-M2-LS2 > Sony M10 (24/48)
Transfer: Micro SD > Sound Studio > xACT > FLAC
THE SETLIST:
Intro >
Have You Ever Been (To Electric Ladyland) [Jimi Hendrix] (including Go Back 2 The Thing & Superman Lover [Johnny Guitar Watson] teases) >
Pride And Vanity [Ohio Players] >
Players Balling (Players Doin' Their Own Thing) [Ohio Players]
Funky Dollar Bill [Funkadelic] >
Hit It And Quit It [Funkadelic] >
What Is And What Should Never Be [Led Zeppelin]
Babies Making Babies [Sly & The Family Stone] >
Hollywood Squares [Bootsy Collins] >
Mother's Son [Curtis Mayfield] (including Chicken Grease tease)
Power of Soul [Band of Gypsys]
She Came In Through The Bathroom Window [The Beatles]
My Summertime Thang [The Time] >
Jam (including Fire [Ohio Players] & other teases)
THE BAND:
Questlove – drums
Kirk Douglas – guitar
James Poyser – keys
Frank Knuckles – percussion
Pino Palladino – bass
Eric Leeds – saxophone
Jesse Johnson – guitar
Kendra Foster – vocals
D'Angelo – vocals, guitar, keys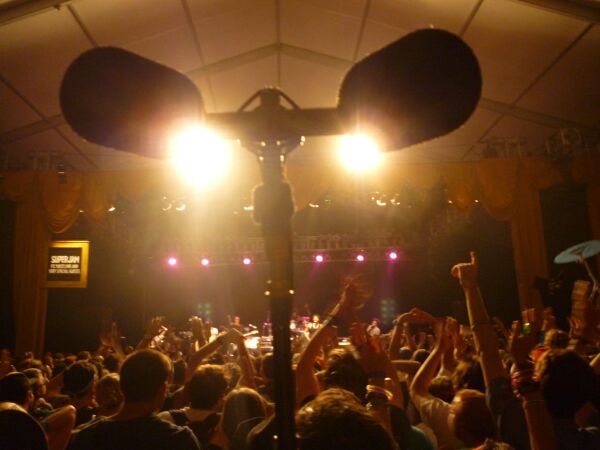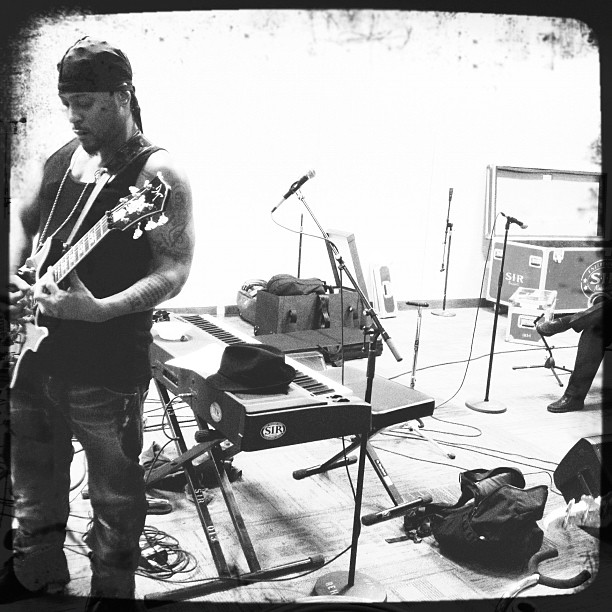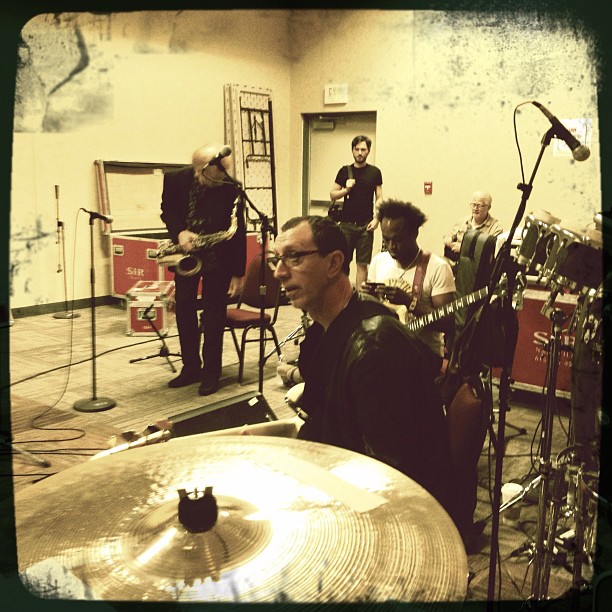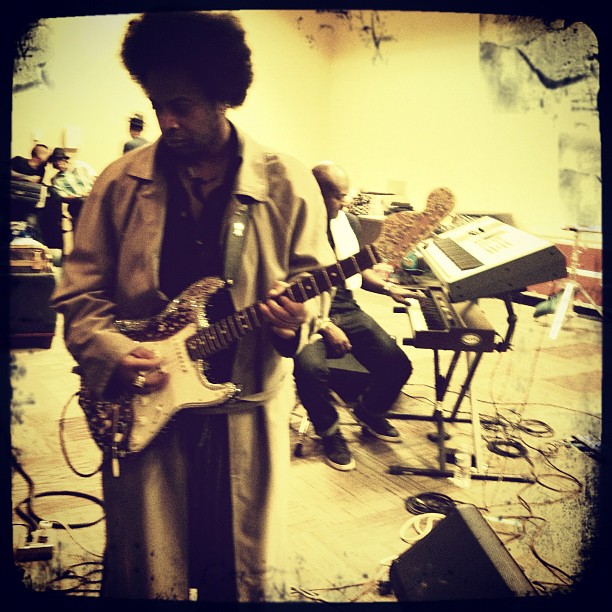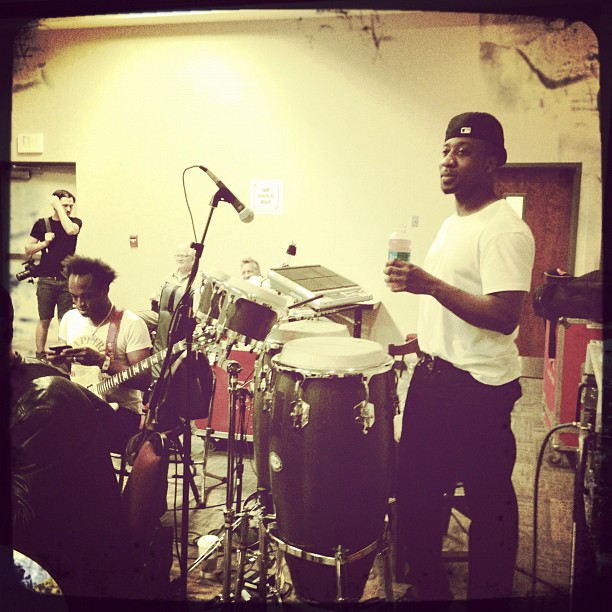 All photos by Questlove.
P.S. You can find Questlove's 2005 Bonnaroo Superjam with Herbie Hancock, Pino Palladino & Lionel Loueke here.
P.S.S. If you've missed it, I recently featured audio downloads of D'Angelo in Paris 2012, Voodoo Outtakes & Rehearsals, D'Angelo North Sea Jazz Festival 2000 audio and video and D'Angelo North Ea Jazz Fest 2012 video + Chris Dave & Friends aftershow video. Make sure you don't miss any of those.