John Medeski, Skerik & Adam Deitch – A Love Supreme (John Coltrane cover)
August 13, 2011 Stratton, VT @ Royal Family Affair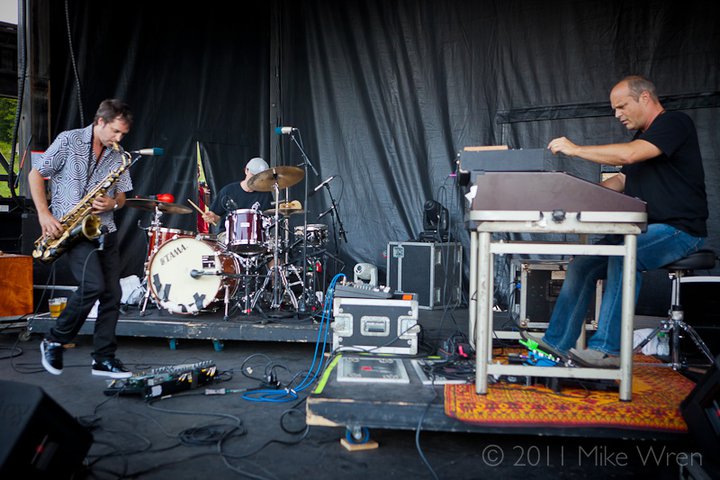 To celebrate John Coltrane's 85th birthday, I bring you two funkifized covers of Coltrane's seminal recording with his "Classic Quartet": "A Love Supreme."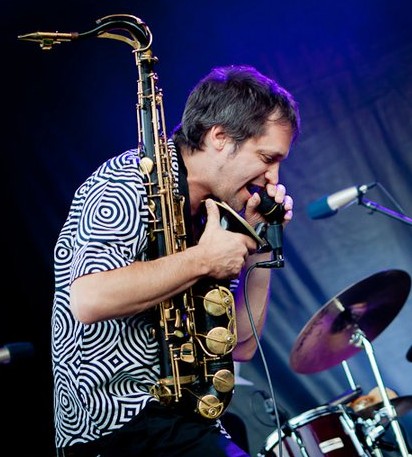 The first cover is a recent performance of a once-only band: John Medeski (of Medeski, Martin & Wood), Skerik (of Garage A Trois & The Dead Kenny Gs) and Adam Deitch (of Lettuce, Break Science & Eric Krasno's Chapter 2). This one starts out very spacey until Deitch drops his hip-hop inflected beats, creating a wicked groove. The full recording of the show can downloaded at etree.
The second cover is from a 2002 performance by "Mike Clark & Friends." Mike Clark is, of course, the legendary jazz-funk drummer that started out with Herbie Hancock & The Headhunters. Mike Clark's "friends" on this occassion were Jessica Lurie (of Living Daylights) on sax and flute, as well as the core of Jacob Fred Jazz Odyssey: Brian Haas on fender rhodes and Reed Matthis on bass.
This one is quite a journey. Of special note is the middle section (about 7.5 minutes in) in which Haas takes over the bass lines on the rhodes and Matthis begins to play the lead with his bass running through an octave pedal. They definitely take this piece to a place it's never been before (or since).
Mike Clark & Friends – A Love Supreme (John Coltrane cover)
July 20, 2002 Oxford, OH @ Camp Buzz 9
Special thanks to Mike Wren for the use of his photos and Rob Clarke for the audio!